Hedda Gabler
Henrik Ibsen, adapted by Brian Friel
Salisbury Playhouse
Salisbury Playhouse
–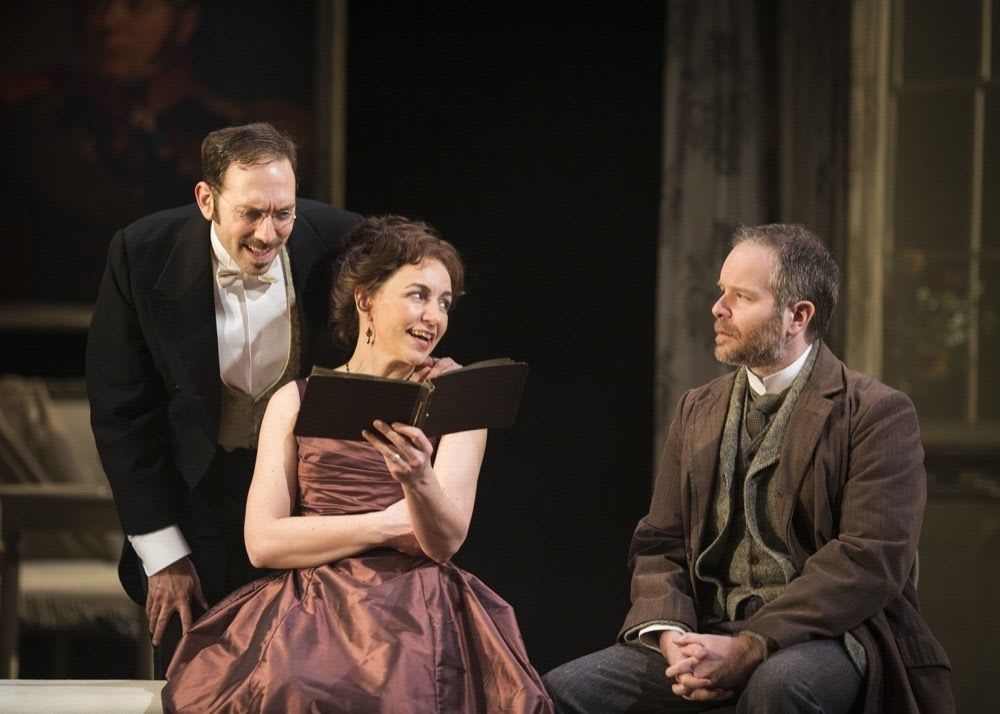 Both John Osborne and Brian Friel have had a go at tweaking Ibsen's 1890 script. Tonight's adaptation is the Brian Friel version, lightening the original and even encouraging some welcome laughter.
Because this is a dark story, isn't it? If you're looking for a truly evil woman, one who is willing to sacrifice anyone's happiness—and even the future of her unborn child—to her own selfish ends, then forget characters like Lucretia Borgia and Lady Macbeth. You need look no further than Hedda Gabler.
On the face of it, Hedda has everything: a charming house of her own choosing, a clever and adoring husband and the kind of beauty which makes men fall at her feet in adulation as soon as they look at her.
We meet Hedda (Kirsty Bushell) first as she returns from her prolonged honeymoon, no longer Hedda Gabler but Hedda Tesman, to a house filled with flowers and the abundant goodwill of old and new friends and relatives.
But if Hedda sees in George Tesman (Ben Caplan) a welcome stabilising influence in her hitherto rather unsatisfactory life with her militaristic, overbearing father (to remind us, there's an enormous portrait of him glaring at us from the back of the set), she is disappointed and quickly comes to despise him, both for his perceived lower social status and for his lack of achievement.
Domestic life bores her and she successively alienates Bertha, the lovable servant (Petra Markham) and Juliana, George's unbelievably generous and kindly aunt, played with effusive gaiety and charm by Jane Wymark, with her acerbic tongue.
And adore Hedda though he might, George has his life's work to occupy him. Having achieved his doctorate, he must now concentrate on reaching even greater academic heights, a professorship no less, which leaves even less time to cultivate his relationship with Hedda if, indeed, that is what she wants. It's at this stage we begin seriously to wonder why she married him.
Then enter Eilert Loevborg (Damian Humbley), a debauched genius who has not only reformed, with the help and encouragement of lovely Thea (Kemi-Jo Jacobs), but written what is believed by George to be a definitive work, a masterpiece even, which looks set to scupper George's own academic ambitions. They have a history, too, Thea and Hedda, from their schooldays, when Hedda threatened to pull Thea's hair and even to burn it off.
So is it Thea's fragile-seeming femininity, in contrast with Hedda's forceful, domineering character, that causes the friction? What will happen when Hedda gets hold of Eilert's precious manuscript? And what part will the arrogant, unscrupulous and lascivious Judge Brack (David Bark-Jones) play in the eventual conclusion?
And what makes this piece of drama still, over 120 years since its inception, such compulsive viewing? It's the personal relationships, isn't it? During the course of the play they have become our family and friends. We care deeply about their futures. When Thea's sister dies we want to weep with the family, even though she has never appeared on stage. And because we are so emotionally involved with them all, the tensions are such that we are on the edges of our seats.
Nobody—but nobody—falls asleep during this Hedda Gabler.
Reviewer: Anne Hill