Hedda Gabler
Patrick Marber from the original by Henrik Ibsen
National Theatre
The Lyric, Theatre Royal Plymouth
–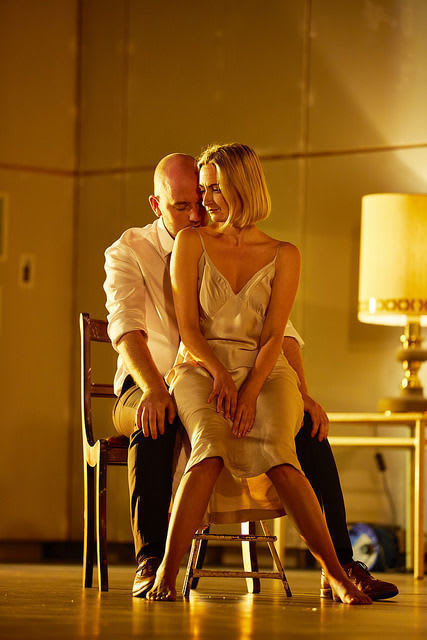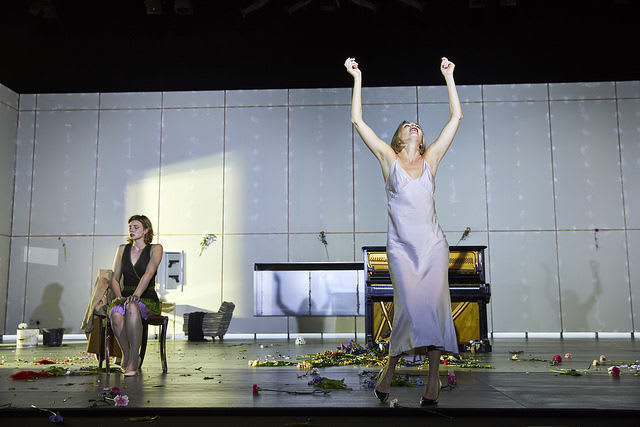 By relocating Ibsen's iconic Hedda Gabler to modern day, director Ivo van Hove has excised the fundamental premise of the piece setting adrift the spoiled bored woman constrained by rigid societal expectations to wash up as an unsatisfactory modern day brat who seemingly chooses her cage.
Patrick Marber's pared-back version implies Hedda has a deeper infliction—perhaps bipolar—and has to take some shock factor liberties to drive understanding of the otherwise unfathomable ultimate escape.
Lizzy Watts is a complex and toxic Hedda.
By turns a credible sensual siren, petulant narcissist, jittery ingenuous bitch and languid manipulative minx, her beautifully observed movement at times is tainted by posturing and carefully constructed tableaux at others. Sexy flirtations with all and sundry undermines the Lovborg connection while rollercoaster emotions and destructive bent have no bite in an era of counselling, divorce, medication and feminism.
It is a ponderous piece, contrived and very pretty.
Jan Versweyveld's sparse set loses the symbolic inner retreat and instead is spacious and airy to nicely juxtaposition Hedda's mental claustrophobia but touring production manager Jim Leaver needs to sort out the lines of sight as the window and mirror (I assume) on one wall are not seen from a good portion of the auditorium.
Blank walls (save for a glass-doored pistol cabinet and, interestingly, a fire extinguisher) and bare floor are strewn with flowers while anguished characters are placed just so, seemingly for aesthetic pleasure rather than plot. And throughout is the brooding, black-clad presence of the taciturn maid Berte (Madlena Nedeva) as counterpoint.
Lighting is superb—crisp and apposite, and affording some quite lovely shadow play which somewhat compensated for not directly witnessing Hedda playing with the blinds. But of course not seen by those on the other side of the auditorium.
Abhin Galeya rings the changes as a young Tesman—good-looking, lively and clearly adoring his new wife. So no sympathy there for gold-digging Hedda, even if medieval trugs are not universally intriguing, his prospects have diminished and he eats takeaway noodles for breakfast after a night on the tiles.
With an eye on the main chance, Mrs Elvsted (Annabel Bates), no stranger to sloppy seconds and seemingly no stranger to Tesman—given the oddly intimate early greetings—is quick to switch affection when the father of her literary child dies and a cloning midwife steps up.
Christine Kavanagh plays adoring Aunt Juliana with a straight bat, in awe of beloved nephew's catch and ready to mortgage her future for his comfort while Richard Pyros is a Byronesque Lovborg full of histronics and grand gestures, believably sacrificing ivy wreathes and his literary lovechild to succumb to the booze and fleshy pleasures.
Adam Best is compelling as the pivotal Brack crackling with animal magnetism and danger. The pas de deux with Watts is electric and, with the Lovborg dimension lost, he rises to the challenge as the harbinger of our 21st century Hedda's doom with ritual humiliation second nature and the prospect of him filling her time—and more—almost convincingly too chilling to endure.
Music adds a fourth dimension: the plaintive plinketting of a depressed Hedda sprawled across the wrecked piano or chords repeated ad nauseum aptly illustrates the all-pervading ennui but Joni Mitchell's repeated "Blue" is a somewhat beautiful but trite statement while Nina Simone's haunting "Wild Is The Wind" and Jeff Buckely's version of the overplayed and far-too-often heard "Hallelujah" are all on point but rather too obvious.
There is much to admire here but, unfortunately, it is all most unsatisfactory.
Reviewer: Karen Bussell