Hedda
Dafna Rubenstein after Henrik Ibsen
Wonderlabs
Greenside @ Infirmary Street
–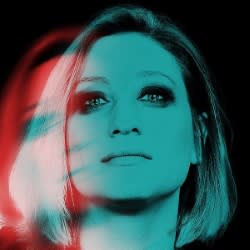 There's a lot of modern cultural relevance in bringing Ibsen's depressive tragedy Hedda Gabler up to date, but transposing the original's themes of fin de siècle for a more modern millennial listlessness. While the original was novel for its portrayal of mental illness and self-destructive depression, our more advanced understanding does shed light on this situation, but there is little in the play to reflect that.
The basic outline and premise are the same: newlywed Hedda (Noa Har-Zion) and her husband Tesman's (Iftach Ophir) marital bliss is shaken when his promised tenure comes under threat, even more so as the threat comes via Hedda's old flame, the shady ne'er-do-well but mathematical genius Lovborg (Benny Elder). Throw in a love triangle, a pair of handguns and some mental and emotional baggage and the dour drama is ensured.
Dafna Rubenstein's script and direction gives us Hedda in a new environment, pinioned and trapped by the latest incarnations of the same social constraints and mores. On the other hand, we are no more enlightened as to who she really is inside. The closest we ever get to her inner feelings is through the despairing admissions regarding how she feels about her "dream house".
It's curious then that this Hedda, for all her importance to the narrative, is never given the drive or even the focus to really take sway in this adaptation. The repeated appearance of the childlike version of her, both on stage and in intermissive video clips, feels like a dangling thread which never quite comes to fruition.
It's certainly still an enjoyable experience, well staged, with some innovative use of CCTV cameras and other quaint traits of the "modern smart home" setting. But there is something empty about the piece, as when we reach the end we are no closer to understanding Hedda than the other characters.
Reviewer: Graeme Strachan