Hedwig and the Angry Inch
Book by John Cameron Mitchell; music and lyrics by Stephen Trask
Leeds Playhouse and HOME, Manchester
Leeds Playhouse
–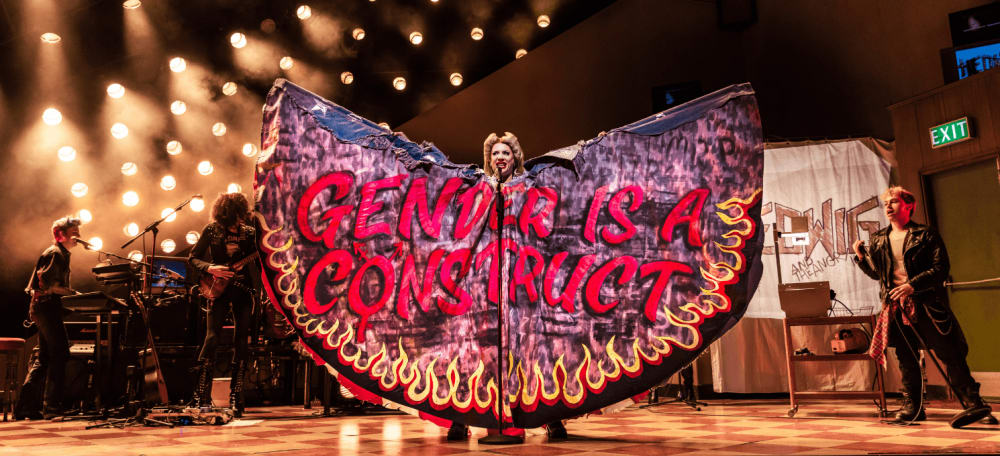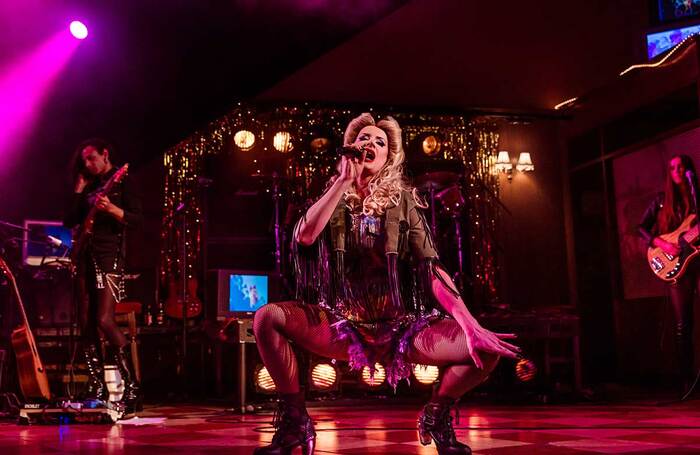 I was surprised to learn that this outstanding production marks the first UK staging of Hedwig and the Angry Inch for over 15 years. This is startling for several reasons, not least because of the show's fabulously fierce heroine, whose unapologetic demolition of sexual taboos and gender binaries reflects our increasingly nuanced understanding of identity and self-expression.
First staged off-Broadway in 1998, Hedwig has become a firm cult favourite thanks to a 2001 film adaptation and a handful of well-received stage productions. While Hedwig may not have the name recognition of The Rocky Horror Show, both shows have been bracketed together due to their mischievous sense of humour and celebration of sexual transgression. Having now seen Hedwig on stage, however, I must say that Dr Frank-N-Furter seems positively tame compared to East Germany's most formidable genderqueer rock star.
Director Jamie Fletcher was adamant about using John Cameron Mitchell's original script, seeking to maintain Hedwig's heady mixture of emotional poignancy and raucous comedy. They have managed to do this, whilst also putting a British twist on the show: Hedwig and her band, the Angry Inch, have been reduced to playing a string of shabby working men's clubs in Northern England.
Hedwig is a difficult show to describe. Although there is more than one named performer on stage, the production is so dominated by Hedwig (played by drag queen Divina De Campo) that it feels more like a one-woman show, albeit one punctuated with blasts of punk and grunge.
Over the course of 105 spellbinding minutes, Hedwig shares her strange life story, explaining how she grew up in East Germany as boy named Hansel, before falling in love with an American soldier and later undergoing gender reassignment surgery in order to get married and escape life under Communism. The botched operation leaves Hansel—who later calls themself Hedwig—with a mound of flesh between their legs, hence the name of their band.
After escaping to the US, where she is dumped by her American sugar daddy, Hedwig falls in love with an American teenager, Tommy Speck, who shares her passion for rock music. The two collaborate on a series of songs, but Hedwig's lover—now known as the internationally famous recording artist Tommy Gnosis—abandons her when he discovers that she is not biologically female.
In the programme notes, Divina De Campo describes Hedwig as a "gritty and punky, like a wonderfully scrappy B-movie heroine." I agree completely with this assessment, and she is brought to glorious life by De Campo who completely inhabits the role from the moment she first steps on stage. Not only does she deliver John Cameron Mitchell's deliciously naughty dialogue with aplomb—not to mention a killer German accent—she also breathes life into a range of supporting characters (including her cold-hearted mother and no-good ex-lovers). Furthermore, De Campo's voice is exceptional.
Stephen Trask's superb songbook—heavily inspired by the androgynous rock of 1970s David Bowie and Iggy Pop—is packed full of wonders, all of which are majestically performed by a talented band consisting of Alex Beetschen (keys), Frances Bolley (guitar), Isis Dunthorne (drums) and Jess Williams (bass). Praise must also go to Elijah Ferreira as Yitzhak, Hedwig's husband, back-up singer and whipping boy.
Not only is Hedwig a sonic delight, but the visuals are also impressive. Ben Stones's set offers a lifelike production of a Northern working men's club, and Daniel Denton's abstract video designs help to illustrate the deeper meaning of the songs. Katharine Williams's versatile lighting ranges from the intimate to the bombastic.
Hedwig and the Angry Inch is an absolute triumph and one of the best shows I expect to see this year.
Reviewer: James Ballands