Hedwig and the Angry Inch
Book by John Cameron Mitchell, music and lyrics by Stephen Trask
Haven Theatre
Theater Wit, Chicago
–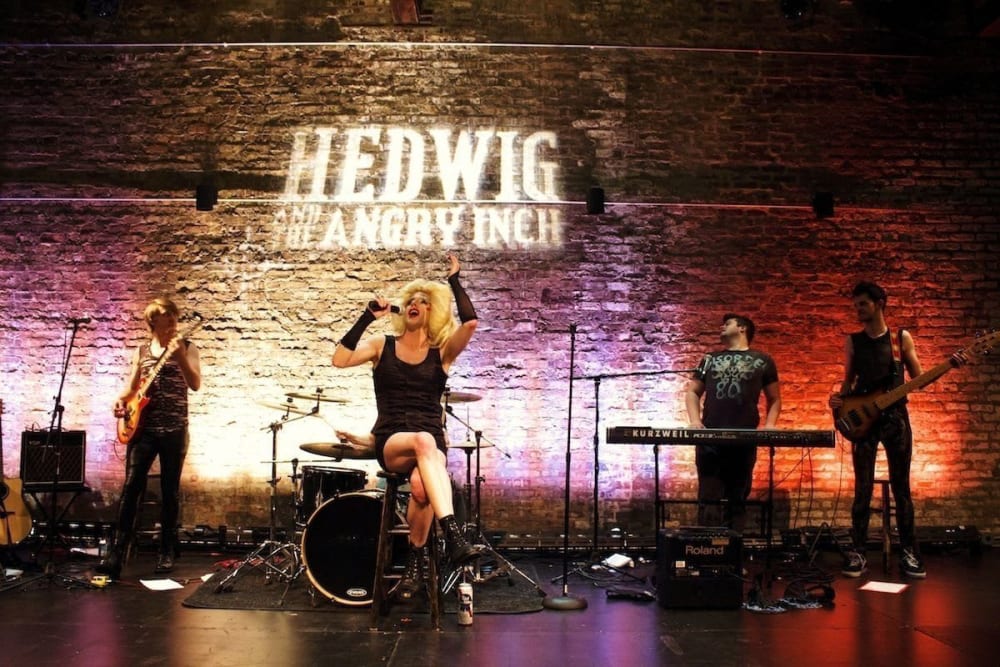 One of Chicago's newest entrants into the Off Loop theatre scene, Haven Theatre has just opened its inaugural production of Hedwig and the Angry Inch at Theater Wit.
John Cameron Mitchell and Stephen Trask have created a show that is a tour-de-force for Hedwig herself, for her husband and ex-drag queen Yitzhak and for the four-person band. The show purports to take place in a bar somewhere along Hedwig's so far quite unsuccessful tour of America.
Hedwig was once Hans, an East German "slip of a girlyboy" who had fled Communist Germany from the wrong side of the Berlin Wall; the action takes place after the reunification of East and West Germany—an appropriate historical situation for this musical which is all about crossing sexual and gendered boundaries.
In order to escape East Berlin, Hans agrees to marry an American soldier, but must undergo an operation that will allow the couple to flee Germany. Unfortunately for poor Hedwig, the botched surgical removal of Hans's penis leaves her with what she calls her "angry inch." As she says, she is "no longer a boy but not yet a woman."
She is also soon divorced by her husband—who left her for another man—leaving her abandoned and penniless in Junction City, Kansas, the real home of composer John Cameron Mitchell. There she meets Tommy, a young Born Again Christian and nerd whom she turns into a star and who immediately leaves her when he feels her up and is distressed by what is left of her penis. (Tommy's character is modeled after Mitchell himself; Hedwig is modeled after his babysitter while he was a boy).
The real star of the show is the show's music—Stephen Trask has managed to create a rock musical that, unlike some of its competitors, is the real thing. Rather than the warmed-over rock score of a Godspell, say, or a Jesus Christ, Superstar, Trasks's exuberant score explodes with an energy that practically gets the audience dancing. In its midst, he also provides dead-on parodies of soft rock, American pop music, and teen garage bands. The band assembled for this production consists of Kory Danielson (keyboards and music direction); guitar (Nicholas Davio); bass (Zachary Moore) and drums (Eric Engelson) and boy, oh boy, can they rock it out throughout the entire ninety minutes of the production.
Within this musical world, Hedwig (as played by Ryan Lanning) has a fierce energy—her life has not gone well and she is absolutely unafraid to throw that in our faces. Abandoned all her life, she is nonetheless a survivor. Drinking from a huge can of Pabst's Blue Ribbon (one of America's cheapest, nastiest beers), Lanning showed off quite a set of pipes as well—from the hardest rock to the gentlest ballad, Lanning's voice can take us where the score needed to go and as Hedwig, he is fascinating to watch both in her anger and in her humour.
The other character is Yitzhak, played here by Lauren Paris. She doesn't pass as male for one moment—probably because of the beard which, from where I sat, looked to be mostly stubble made with colouring rather than with a hair and latex prothesis—but as the backup singer of the piece (assisted ably by Nicholas Davio), she does a beautiful job of counterpoint to Hedwig's lead and of presenting a queer club kid who is mightily pissed off at having to tour with a Hedwig he has grown to hate.
Though the production team as a whole do a fine job, particular mention should go to Carol Cohen (also the show's producer) in her role as costumer designer, director Kyle Trent (in his Chicago directing debut), and Nichole Wixom's make-up including Hedwig's first appearance all in red, white, and blue including blue glitter eye shadow and red glitter lipstick. Daniel Friedman's lights are striking as well (with the occasional moment in which Hedwig is left in darkness with no clear theatrical motive for doing so).
I've always liked Hedwig and the Angry Inch as a piece; Haven Theatre's first production works, big time.
Reviewer: Keith Dorwick