Heer Ranjha
(Retold) by Shan Khan
Ankur Productions
Tramway Theatre, Glasgow
(2008)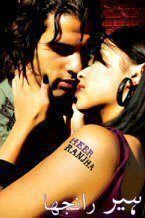 The Punjab classic Heer Ranjha is retold at Tramway by Shan Khan. This present day adaption of the classic tale pulls the two lovers, Ranjha, a Muslim, and Heer, a Sikh, starkly onto the streets of Glasgow. The ensuing drama follows the love and tragedy of the young couple as they try to escape a web of social and cultural prejudices. Directed by Daljinder Singh, winner of the Arches Directing Award 2008, this play offers some sharp humour, sinister dealings and a soppy love story.
Split into two halves, the first moves at a distinctly faster pace with localised humour and typically Glaswegian stereotypes. Music by DJ Tigerstyle asserts a contemporary edge while dancers burst onto the stage with energy and glitter (although at some points a little too much energy causing a few clumsy stumbles).
The second half is slow in comparison, leaving a lot of loose ends to be answered. Firstly Uncle Kaido morphs from sinister villain to pantomime baddy tempting the audience to shout "he's behind you!" rather than view him as a real threat. This situation is not helped by a scene in which Kaido announces that if he had not been Heer's uncle he would have been her lover. This is followed by the line "I'll go up top" (meaning on the yacht) creating an unfortunate juxtaposition.
Meanwhile, Ranjha suddenly reappears after a violent abduction with little more explanation for his absence than that he did not know if his heart-broken love would wish to see him again. This is a little disappointing considering the main theme of the story is the fact that the lovers have been forcefully separated. The intensity falls flat as the death plot from the first act is completely avoided by a simple phrase along the line of 'turns out they didn't want to kill me after all'.
However, this version of Heer Ranjha does offer some quick laughs and touching moments. Jealousy, deceit and racism feature heavily, highlighting that these issues have to be dealt with every day on a universal level. Despite moving forward in time and across continents, the play stays true to its original roots becoming both a classic and contemporary love story.
Until Saturday 29th November
Reviewer: Alison Burns