Hello Dolly!
Book by Michael Stewart, lyrics and music by Jerry Herman
Lyceum Theatre, Sheffield
(2008)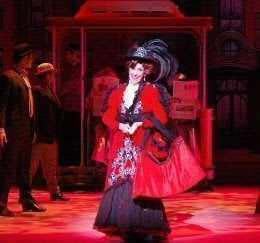 Hello Dolly! is a delight - well sung, well danced, excellent staging and music - all you could want of an enjoyable evening at the theatre - a spectacle without too much thinking required.
A long history lies behind this show, dating from 1835 when when John Oxenford wrote a short comedy entitled A Day Well Spent, rewritten as He Intends to Have a Fling by Nestry, an Austrian dramatist. A hundred years later Thornton Wilder moved it to New York as The Merchant of Yonkers, where it failed miserably. After a number of personal successes, he had another session with it, resulting in The Matchmaker, with the lady becoming the principal theme, opening in the 1954 Edinburgh Festival.
It was made into the musical we now have, Hello Dolly!, vastly entertaining and a musical furore over the last fifty years. And this brief outline does little justice to the detail available in the programme.
But certainly there is no sense of history when one watches this excellent performance at the Lyceum, with Anita Dobson as Dolly, a strong powerful voice, bags of personality, watching for a sign from her late husband supporting her decision to extend her life again.
I suppose the only warning one should offer is that anyone with strong feminist leanings and imbued with politically correct vocabulary may take issue with one or two of the early scenes. But pray be reassured: the "wimmin" win in the end.
The breathless activity of this production owes its success to everyone involved. The scenes, changing smartly from New York brownstones houses to Grand Central station, the appearance of the trolley car, the steam engine, Yonkers, the march through the auditorium of the 14th Street band, the hay and corn store - especially the corn, and the delightful dinners at the Harmonia gardens restaurant lead to an unbelievable dance demonstration of high speed waitering.
Interspersed are the delightful carryings on of Dolly as a matchmaker selling her wares to grumpy Horace Vandergelder, played by David McAlister, while his two employees,Cornelius and Barnaby (Darren Day and Hamilton Sargent) also take the opportunity of a limited budget to play the high life. Even to a colour-blind reviewer like myself, the dresses, and especially the hats, and of course the elegant dance outfits sparkled with excitement. Perhaps it was unfair to Irene Molloy, sweetly behatted and respectable, sung and played by a charming Louise English, not to get the wealth, but she did get the recently met man of her desires.
The music kept the pace of the show at top level, while the dancing, men and women, was colourful, magical and totally spectacular.
Don't be put off if you have seen the film, or even seen the stage show before - this one is a cracker.
Reviewer: Philip Seager