Hello and Goodbye
Athol Fugard
Treatment Theatre and English Touring Theatre
Trafalgar Studios 2
(2008)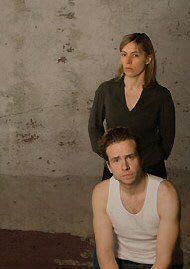 A young man sits alone in a filthy, decrepit room. He talks to himself, reciting events with absolute accuracy, speaking as quickly as the words can tumble out.
It is 1965 in Port Elizabeth, South Africa. Only a few years previous Nelson Mandela was imprisoned and South Africa had recently been declared a republic amongst violent rebellions and an aggressive apartheid.
However, we are in this dirty room with Jonny Smit (Rafe Spall) and no matter what the political atmosphere when Athol Fugard wrote Hello and Goodbye, this is essentially a family drama, riddled with guilt, bitterness, fear and, ultimately, love.
Hester Smit (Saskia Reeves) returns home one night, having left fifteen years previously. This sibling reunion forces the pair to confront memories, some of which are deeply buried. Hester believes she is owed inheritance from her sick father and is prepared to literally dig up the past in order to get it.
This superb two-hander originally premiered in 2003 at the Southwark Playhouse to critical accalaim and the second time around it doesn't disappoint. Once again under the direction of Paul Robinson this production is emotionally charged, concerning itself more with the oppressive nature of religion (The Dutch Reformed Church in this instance), rather than that of the apartheid which obviously is not without its influences.
Jonny is physically imprisoned in his childhood home; he is free to leave but emotionally tied. Whilst Hester may have escaped, the emotional connection is equally as strong; binding her and affecting all other relationships.
The chemistry between Reeves and Spall is electric. Seemingly complete opposites; Spall's Jonny was anxious and erratic with his dishevelled appearance and twitching mannerisms. Living the life of a recluse, his social skills have become some what limited and Spall was completely endearing with his boyish grin and nervous energy. A complete contrast was Reeves who initially presented Hester as the strong and confident sibling. Her stylish appearance and hard as nails exterior disguised her ultimately broken centre which was slowly revealed by Reeves.
Hello and Goodbye, whilst emotionally wrought, also had a great deal of dark humour. Only a brother could get away with saying to his sister, "I dare you to commit suicide". What could easily have been filled with self pity was in fact lifted, making the story all the more poignant.
Until 17th May, 2008
Reviewer: Rachel Sheridan