Helver's Night
Ingmar Villqist, Translated by Jacek Laskowski
York Theatre Royal and Company of Angels in association with University of York
York Theatre Royal Studio
–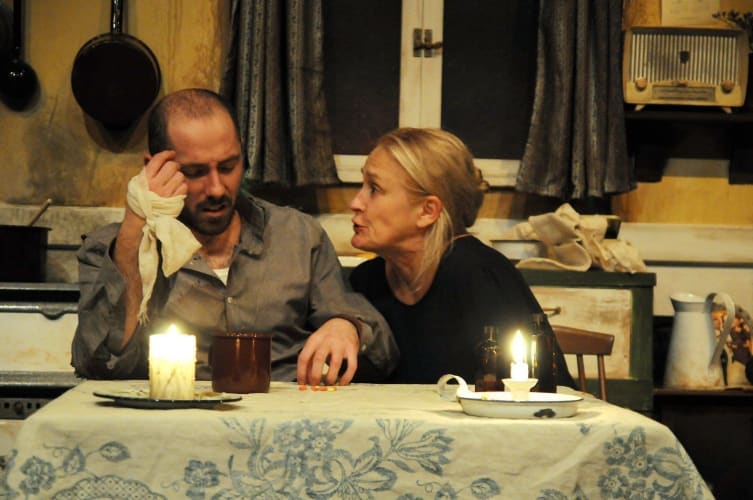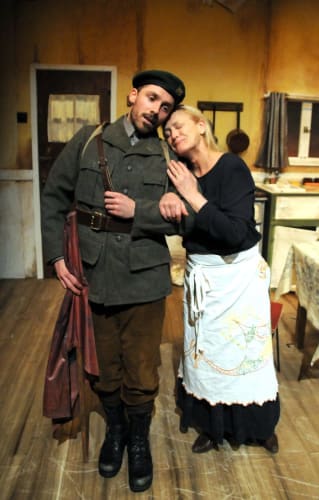 This taut, atmospheric two-hander, newly translated from a Polish play written in 1999, sees an impressive production grappling with flaws which may persist from the original.
The setting, in an unnamed (but distinctly Germanic) country under the increasing grip of a right-wing militia, is brilliantly evoked by the staging, lighting and design.
This has been a good week for transformed spaces. While over at Sheffield's Crucible, Bryony Lavery's Queen Coal has effected massive renovations, completely reconfiguring the Studio Theatre, the York Theatre Royal's own Studio is, here, more modestly but still impressively adjusted.
Entering to smoke, a dimly-lit corridor and the sounds of occasional passers-by on the march, we are guided into a small kitchen space, the walls of which extend to great effect around the edges of the regular seating. Zoe Squire's design does brilliant work with simple resources, and certainly helps in bringing an edge and tension to the play in its climactic moments.
Similarly, Mike Redley's atmospheric and subtly dynamic lighting design is impeccable, and Benjamin Hudson's sound design does much of the work in evoking the environment and the growing sense of danger over the course of the story.
The claustrophobia of the enclosed set augments the story which, as the title suggests, plays out in a single night. Helver, played by Adam Venus, comes across like a young soldier—lightly stubbled and physically powerful—but nonetheless behaves in extremely child-like ways, and it's not until later in the play that the ambiguities of his age and personality are resolved in the eyes of the audience.
What is clear from the outset is that Carla (Kate Lynn Evans) very much cares for her young male charge, and the opening phases of the play see her tending to him and playing along with his army games—to an extent.
What follows a series of tight, tense vignettes, some more gripping than others but all of which are presented within the confined timeframe of this one night, with the noises of shouts and bangs from outside encroaching on the pair's space more and more—putting it under greater and greater threat.
Kate Lynn Evans and Adam Venus both do excellent work under Hal Chambers's assured direction, though Venus has the harder task, and in it he's occasionally limited to a confined range and register. Lynn Evans brings more subtle variety to the role, which occasionally veers into almost Mother Courage territory, the ambiguous motherly figure torn between duty, self-interest and personal sacrifice.
Faced with the source material's tendency to dwell in impossible misery, the production does show great strengths, though occasional incongruities become more jarring in such an intense scenario: frustratingly, food is cooked but never eaten; a (distinctive) box which turns out to be deeply significant is in plain sight for a long time only for Carla, later, to seem surprised that it has been appropriated by Helver, and so on.
At its best, then, the play allows us to consider intricately-woven moral dilemmas through some powerful stage imagery. But many, I feel, will be left thinking that there is nothing new to enlighten our understanding or impression of the intractable situations created by the systematic vilification of certain sections of the population.
Reviewer: Mark Love-Smith