Henceforward
Alan Ayckbourn
Derby Playhouse
(2006)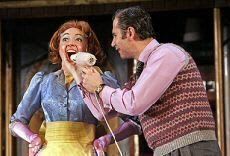 It's three years since Derby Playhouse staged an Ayckbourn play, the riotously funny Way Upstream. But anyone expecting a similar gigglefest from Henceforward will be in for a surprise - it's one of the prolific writer's bleakest pieces. It's brilliantly staged but there aren't many laughs in it.
Henceforward, set in the near future, tells the story of Jerome, a lonely composer who lives with a robot, Nan 300F. He's in his flat safe from the gangs such as the Daughters of Darkness who roam the streets. His wife and daughter have left him. He thinks he can have access to his daughter if he can convince his wife and a representative from the Department of Child Wellbeing that he's settling into a less eccentric lifestyle.
Jerome believes he needs to show them he's in a stable relationship, so he hires an actress to pose as his fiancée. But she walks out when she discovers he records on audio tape everything that happens in his house, including their lovemaking. He then programmes the robot to replace the actress.
It's quite an ingenious plot and the Playhouse has brought back as director Karl Wallace who was in charge of the knockabout comedy Can't Pay? Won't Pay! at Derby last year. Designer Diego Pitarch also worked on that production and he's done an excellent job with the set which is crammed with television monitors, recording equipment and the trappings of a man living on his own.
Yet despite all the hard work that's gone into the production, I often wondered how Henceforward had won the best comedy in the Evening Standards awards in 1989. Has humour changed so much since then?
The first half seemed interminable to me as Ayckbourn appears to take far too long to set up the storyline. The biggest laugh before the interval on press night was when the robot makes a joke about Jerome's sexual inadequacy. The second half is funnier but it never reaches the heights you expect from Ayckbourn.
Julian Protheroe gives a reasonable performance as Jerome whose social foibles mean he's more comfortable in the company of his robot than humans.
The major successes of the production are the two actresses who play the robots. Sherry Baines is utterly convincing as Nan in the first act, eyes rolling, head lolling and joints jerking as she regularly malfunctions. Emma Fildes replaces her after the interval and is similarly stirring. Can a robot pass for a human? Almost unquestionably in her performance.
Sherry Baines becomes Jerome's estranged wife Corinna in act two which picks up pace when she enters with the man from the Ministry - gloriously depicted by Tom Godwin, a geek with trousers which finish just below his shins and a penchant for gadgetry.
Henceforward may have been sharp when it was first written because it was set in a future which people had to imagine. But its Big Brother-style elements now seem dated while mobile phones and recording equipment have made far bigger strides than Ayckbourn anticipated. When Gerry Anderson didn't foresee various technological advances in Thunderbirds it was quirky; in Henceforward it's clumsy.
Full marks to the Playhouse for a resourceful production of a play which doesn't get many outings these days - but I get the feeling that a lot of the comedy, like the robots, now needs fine tuning.
"Henceforward" runs until March 4th
Reviewer: Steve Orme