Henry Box Brown: A Musical Journey
Mehr Mansuri
CTC New York Ensemble
Gilded Balloon Patter Hoose
–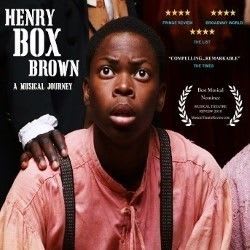 The story of Henry Brown is one that deserves to be told. Born into slavery in 1816, he struggles through his life, working hard, despite being torn from his family at an early age. Although Henry's life at times seems to find a measure of happiness, most especially in his meeting, romancing and marriage to Nancy (Sharaé Moultrie), it's short-lived, and the grim spectre of his bondage looms tragically over everything good in his existence, thus leading him to devise the legendary plan of mailing himself to abolitionists in order to secure his freedom.
It's a richly interesting story and it takes the audience on an emotional journey that never feels trite or manipulative. Credit is certainly due to CTC New York Ensemble for crafting a play that avoids languishing in misery or glorifying in suffering while portraying a grim reality of a terrible time. Above all else, this is a musical and it would be remiss not to commend the fantastic vocal work of the cast and the creatives behind the songs and arrangements.
It's in no small part due to the charismatic performance of Paul Gee as the adult Henry Brown, narrating the play at first before taking part in the action once Henry is grown. Gee manages to make much of a role that frequently requires him to hold his tongue in front of callous slave owners, but shines when he sings or engages in some of the few comedic moments of the piece.
Musically, it's a fantastic performance, with nary a bum note to be found and, aside from Gee and Moutrie, another standout which must be mentioned is the staggering angelic tones of Jahmaul Bakare, who booms out "Jesus Walk with Me" in sonorous tones that feel like they could shake the building.
What holds the play back from true greatness in part stems from the short running time that seems fitted for a Fringe time-slot. Much of the narrative seems glossed over, and some connective tissue between scenes and characters simply isn't there. A good example is the redemptive moment of Rev. Smith, who takes centre-stage and preaches equality at the pulpit, much to the consternation of his white slave-owning flock. He appears more or less out of nowhere, and after his big scene, which forms part of the biggest and most stunning vocal centrepiece of the play, vanishes again, leading you to question his part in things.
When comparably, Samuel Smith—the man who facilitated the mailing—is given a small moment to explain what happens to him, it raises the question of why he gets such a throwaway scene and another man, who seems largely immaterial to the story, forms part of a large musical number.
The other flaw in the piece is that after the sledgehammer of a crescendo at the midpoint, as the cast belt out an a capella gospel rendition of of "Amazing Grace" with refrain "Hold on Freedom is Coming", nothing afterwards quite manages to reach such a heart-stopping moment of emotional catharsis.
The performance is still exemplary, especially within the confines and quick turnaround of a Fringe show, but this is a piece which deserves to be deeper, more in-depth and have a longer run time. As it stands, this is an exceptional Fringe musical, but a body of work that could be a timeless masterpiece.
Reviewer: Graeme Strachan