Henry I of England
Beth Flintoff
Reading Between the Lines
St James' Church
–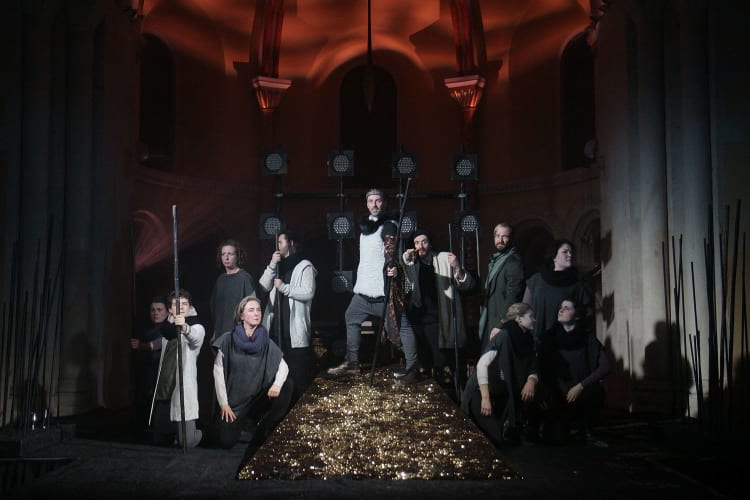 As initial survey work began in June 2016 to attempt to locate the body of King Henry I under the ruins of Reading Abbey, Reading Between the Lines set about trying to retell and commemorate the complex and somewhat disastrous story of this lesser known monarch.
Henry was the fourth son of William the Conqueror and, after a series of tragic and questionable fates befell his brothers, along with a healthy dose of political manoeuvring, he became King of England for a reign of about 35 years.
His story is a web of foul play and tragedy, as seems to be the norm for royalty of this period, and playwright Beth Flintoff was commissioned by the theatre company to attempt to dramatise the story's twists and turns for a Reading audience. It's no small undertaking; the play has a significant number of characters, each with a significant part in Henry's rise to power and ultimate demise.
At times, the story moves into narration in order to speed through significant portions of time. The focus is, of course, on the more dramatic elements of his story, the murders and mutilations, deceits and power plays, and they lend themselves well to a traditional and dramatic staging.
The production is performed in St James' Church, close to the Abbey ruins, which inevitably lends atmosphere and gravitas to the setting, as well as some acoustics that enable the powerful soundscape to boom and echo through the space. At times, the acoustics are in conflict with the detailed and fast-moving text, but the space is small enough that little is lost in this challenging environment.
Staging is minimal and contemporary, contrasting the traditional text based production itself well. Costumes, lighting and even the text itself also reflect this duality of contemporary and traditional throughout.
It is, thankfully, not written in the language of the period, but a respectful nod is made to the structure and pattern of an older form of speech and it is clear that significant research has been contributed and woven in to the piece. The text is broken by some well-placed movement sequences that create some strong visual images. The piece would only be stronger were this layered throughout, as it was powerful and evocative and added to the creation of a strong and engaging atmosphere.
It is clear that a lot of work and thought has gone in to this production and that the company considers it a meaningful responsibility to its local audience to record and retell this moment in time.
The cast are all strong performers, confidently adept with the text and movement alike. Adam Venus and James McGregor particularly stand out with their highly different and yet equally deeply sinister portrayals of men abusing their positions of power. Saskia Portway's adept portrayal of rage and grief lends some important contrast but equal strength to the male dominance of the story. It's also good to see young performers working alongside and within the company, and pushed to achieve high standards.
With some commanding performances and thoughtfully placed direction, this company is capturing an interesting moment in the story of a town often mistaken for lacking in history. It can only serve to raise the expectations of its audience that Reading's history is better recorded and communicated in the future.
This is an ambitious and successful production for a company who work hard to raise the bar for text-based theatre in Reading.
Reviewer: Liz Allum