Henry IV Part 2
William Shakespeare
Royal Shakespeare Company
The Lowry, Salford
–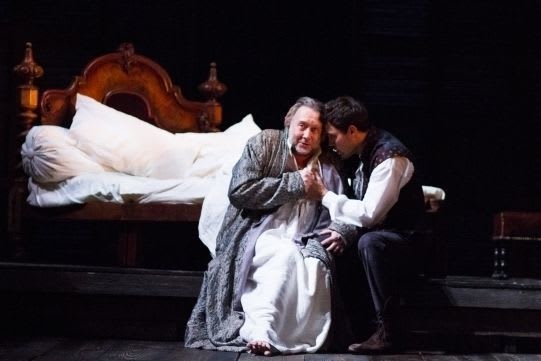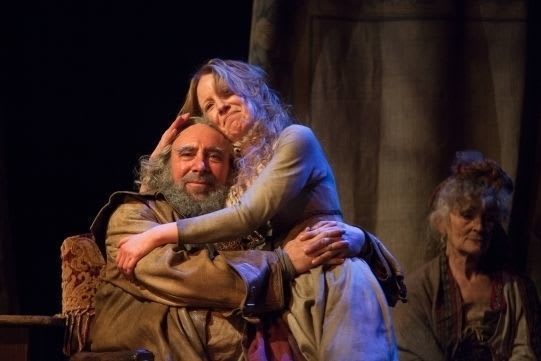 The second part of Shakespeare's Henry IV plays, in Greg Doran's production for the RSC, opens with Rumour (Antony Byrne) speaking the prologue wearing a Rolling Stones tee-shirt with words and hashtags floating around the screen behind him.
This modern-day feel doesn't, however, continue, as the next scene returns us to Stephen Brimson Lewis's design familiar from Part 1. This sequel is a slower, more ponderous play than its predecessor, with no battle scenes or robberies to vary the pace, but it still harks back to the legacy of Richard II—the play and the monarch—and looks forward to Henry V.
Antony Sher's Falstaff is the same lying, conniving rogue as before, slow of speech and of movement, but we do see him share some tender moments with Doll Tearsheet (Nia Gwynne) and Mistress Quickly (Paola Dionisotti). Alex Hassell's Hal has left behind his previous life, but is still uncertain about his new role until the very end.
The story is largely a clearing up of the remainder of the the rebels from Part 1 and of Hal's life in preparation for him taking the throne. His father, Jasper Britton's Henry IV, grows more and more frail in an impressive and at times heartbreaking performance.
As there is more talk and less action, Part 2 does seem longer than Part 1, even though it runs about five minutes shorter. Some of the comic routines are a little like pantomime again and some scenes are less clear than others; Antony Byrne's Pistol is a very striking character in looks and actions, but I've no idea what was going on in the very long tavern scene in which he first appears.
But there are some lovely moments, such as the comic duo of Justices Shallow (Oliver Ford Davies) and Silence (Jim Hooper), Hal's last moments with his father and his final rejection of Falstaff, Northumberland (Sean Chapman) receiving the news of the death of his son, Hotspur, and plenty more.
So while this play is very much a transition into a play that isn't part of this particular package, there are some fine scenes and performances and it is well worth seeing both parts while it is in town.
Reviewer: David Chadderton