Henry the Fifth
Ignace Cornelissen translated by Purni Morell
Unicorn Theatre
–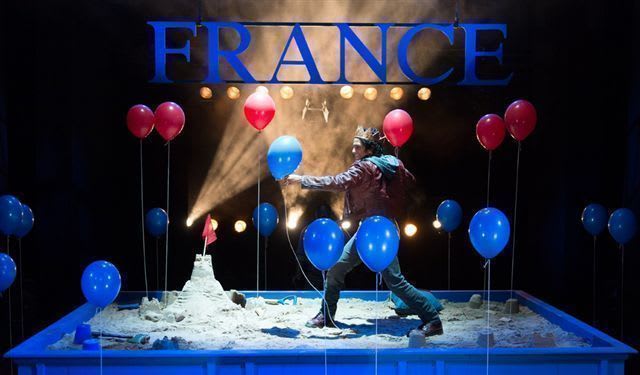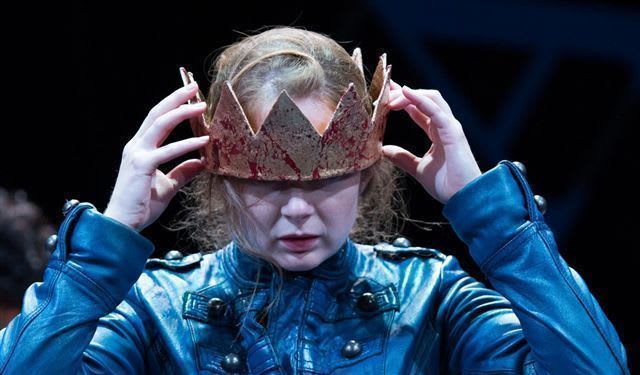 Not Shakespeare (though inspired by his play), and not true history either, this is more like a children's game of kingship acted out with theatrical flair by just four performers with a supporting cast of red and blue balloons.
Aimed at the eight-year-olds and up, it is cleverly dressed to start with modern dress and add a period look that could have come out of a dressing-up box. A royal crown on the empty black stage floor seems pregnant with possibilities for the imagination.
It is joined by a succession of coloured balls: a game of boules in progress (though those who know their Shakespeare may think of tennis balls), followed by a good-looking lad who promptly moves his ball up close to the target and shoves a couple of the others down his trousers before the other players enter.
His joking complicity immediately has the audience on his side, the cunning cheat! This will turn out to be Henry, still behaving like unreformed prankster Hal and played with charismatic nonchalance by Shane Zaza.
Prologue over, enter a chorus figure, borrowed from the Bard and borrowing ideas and even phrases from Will Shakespeare too with his call to use imagination to people the stage with armies. This is our storyteller, by right of the old frock coat he now puts on. He can make things happen the way he says, even when it's not what characters want to do. He is played by Abdul Salis, who establishes an instant rapport with the young audience.
Now Henry has the crown and he is king but short of money. The storyteller won't let him raise some by an issue of commemorative stamps (they haven't been invented) and tells him the people won't stand for increased taxes, but then Henry looks across the Channel to France, fair France, and sees its wealth and castles. He wants them.
You probably know the basic story: Harfleur, Agincourt—all that. Well, there are city sieges, castles, battles but it isn't quite the way that you remember. The Princess Katherine is going to succeed as Queen of France but she's under age.
A distant cousin, whom Rhys Rusbatch makes quite a dashing scoundrel, claims her father's will appoints him King Regent. To regularise things, he plans to marry her—but that's what Henry has in mind as well.
But neither man, nor the storyteller for that matter, is quite as bright as Hannah Boyde's resourceful Katherine. She is determined to claim France as her own—a fantasy France that designer James Button presents as a magic world of sandcastles on a beach spreading across a huge billiard table that tracks towards the audience as they cross the channel.
This Henry the Fifth is not a play about power politics or the horror of war. It is a game that's full of visual jokes and humour. There is still a place for some very serious moments, like the "Harry-in-the-night" episode between a disguised Henry and a common soldier that Cornelissen borrows from Shakespeare, but Ellen MacDougall's direction ensures that the audience is all attention for this and for the rest of a light-hearted, fun-filled hour.
When everything escalates into a rough-and-tumble battle scene, with the armies reduced to just their leaders, the youngsters I saw it with were whooping with excitement and delight.
It's a production that looks splendid, but its power lies in its theatrical invention and its unleashing of the imagination.
Reviewer: Howard Loxton