Henry V
William Shakespeare
Grosvenor Park Open Air Theatre
Grosvenor Park, Chester
–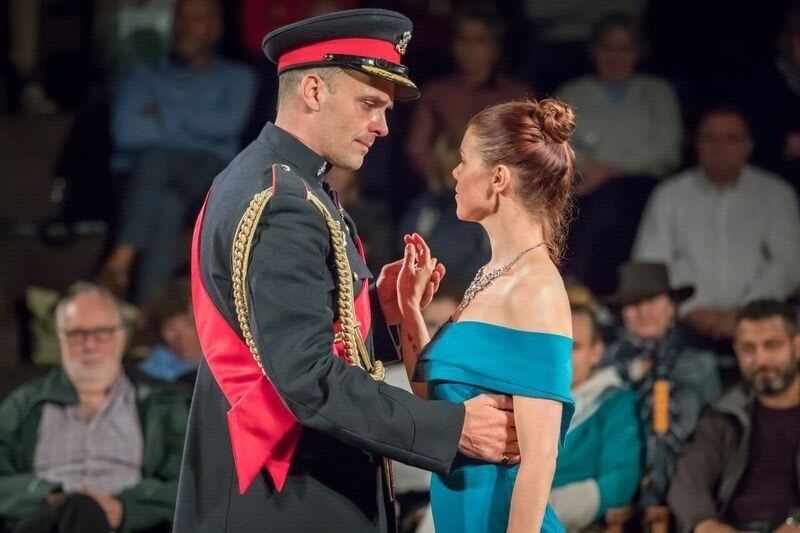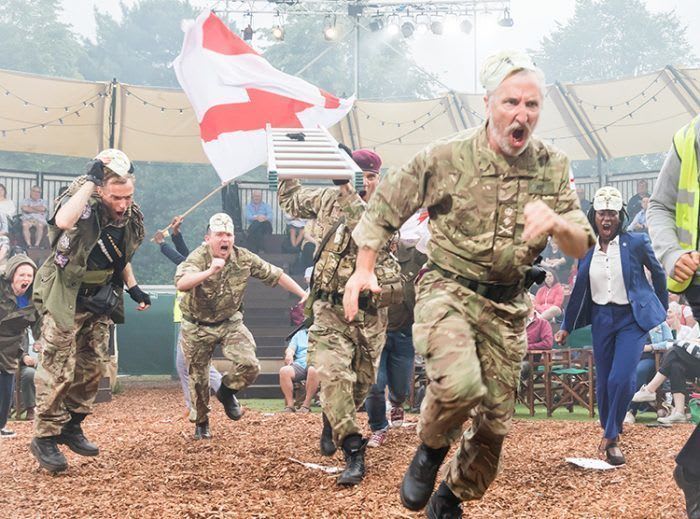 A question often asked about outdoor theatre companies is, while they may well be fine when the going is good on a balmy summer evening, can they do it on a wet Tuesday night in Chester? The answer by the Grosvenor Park Open Air Theatre Company is a resounding "YES!" The cast delivered a superb performance of a challenging Henry V as rain teemed down relentlessly.
Loveday Ingram has set this version in the modern day, with a clear Brexit theme running throughout. How could it be any different when one considers the themes of international relations and integrity of leadership that are at the core of one of Shakespeare's most challenging plays and Ingram's production examines both in a thought-provoking and visually compelling manner.
The cause that Henry sets out upon is the conquest of France. Having been convinced of the just nature of his claim by the Church, Henry lights a fire of patriotism among his people that resonates eerily with certain elements of modern society with Saint George flags draped and chants of "I'm England 'til I die" among the cast. Rivaling this, in the French Court, signified by EU flags, is a determination not to yield to English imperialism. Uncomfortable as some of the language and deeds may seem when laced in this context, the links in the play are so salient that Ingram is quite right to emphasise them.
Samuel Collings and Jessica Dives as Bardolph do a fine job in portraying all the contrasting emotions felt by soldiers involved in such an expedition. There is the potent mix of xenophobia and desire for personal gain; in the case of Bardolph, this leads to his summary execution on the orders of a King determined to proceed in a proper manner.
Which brings us to Henry himself, a young King with a desire to make an impact. Joseph Millson delivers a towering performance, quite literally at one stage when he ascends a ladder, as a man convinced in the righteous nature of his cause. However, troubled by the death and misery the conflict will bring, some of his best scenes are when Henry is moving incognito among his men on the night before the battle. Millson delivers the rousing speeches with passion and vigour, so that regardless of your views on the cause, you cannot fail to admire the qualities of the man who leads it. One of the most striking scenes comes when the inhabitants of a French town that stands in the way of the King are told to surrender or face a ravaging army. As ever, it is the weakest and poorest who pay the highest price for the ambition of leaders.
Clearly, the battle scenes are a challenge to stage in an open-air environment but a combination of smoke and lighting ensures they are grippingly and brutally portrayed. In the midst of all this, light relief is required and is well provided by Sarah-Jane Potts's charming Katherine, Princess of the French Court. Her exchanges, firstly with Mitesh Soni as Alice then with Millson, are a treat and lighten everyone's mood.
Loveday Ingram has certainly succeeded in delivering a thought-provoking version of Henry V and, while some of the themes may be uncomfortably close to home, ultimately the production works very well as a comment on a nation unsure of its direction and purpose.
Reviewer: Dave Jennings