Henry V, or Harry England
William Shakespeare
Shakespeare's Globe
Shakespeare's Globe Theatre
–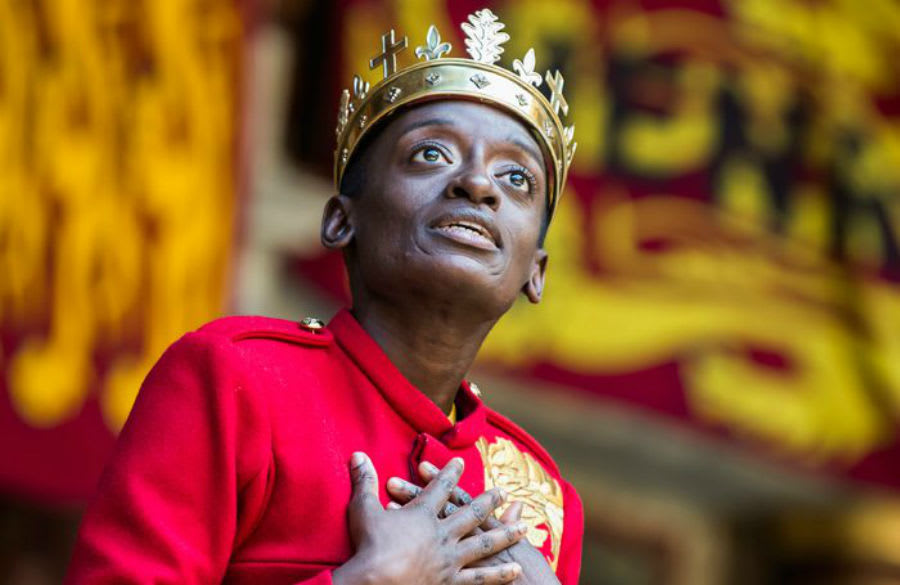 The applause that suddenly interrupted the performance of Henry V or Harry England was well deserved. It came at the end of a sequence in which Harry (Sarah Amankwah) in disguise talks to a small group of ordinary soldiers the night before a great battle.
They are cold with only a blanket each to huddle into against the chilly night. They are certain many of them will not see the end of the following day. Soldier Bates (Colin Hurley) wishes the King was there alone so that "many poor men's lives" were saved. Soldier Williams (Nina Bowers) imagines the dead rising up to speak of their wounds and the wives and children that were "left poor". He even contrasts the prospects of "our throats" being cut while the King is ransomed. It leaves Henry with troubled reflections on Kingship. It was a an utterly convincing sequence in which mood and dialogue were movingly sensitive to what was dramatically at stake in the meaning of the text. The audience had to applaud.
Yet in a generally clear, well-performed play, this scene is a rare exception. In the main, the production abstains from giving the play any key purpose that would electrify the text. There is no patriotic tilt or anti-imperialist slant. You are generally left to find your own meaning.
Henry may order the slitting of prisoners throats and seem to have no reaction when he hears his old mate Bardolf (John Leader) has been executed, but nothing is done to guide our response to these things. It's all just words pointing nowhere in particular.
Occasionally they even point us in the wrong direction. When, as hostess Quickly of the Boar's Head, Jonathan Broadbent describes the death of Falstaff, he nudge nudges the audience with sexually suggestive expressions to accompany the character's account of feeling the coldness of Falstaff's body. One of the most poignant scenes in Shakespeare is reduced to old-style bawdy humour to get the audience laughing.
But such poor judgement is rare and I never grew weary of the performance. Except I wished it had a purpose, a sense of relevance that somehow shed a light on the chaotic times we endure. That would really have been something.
Reviewer: Keith Mckenna