Henry V
William Shakespeare (with additional words by A E Houseman)
Antic Disposition
Southwark Cathedral
–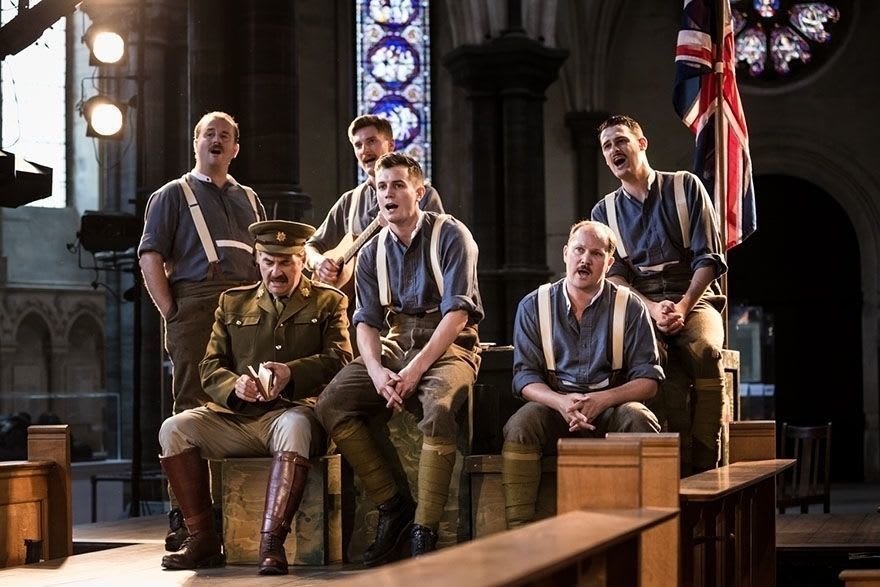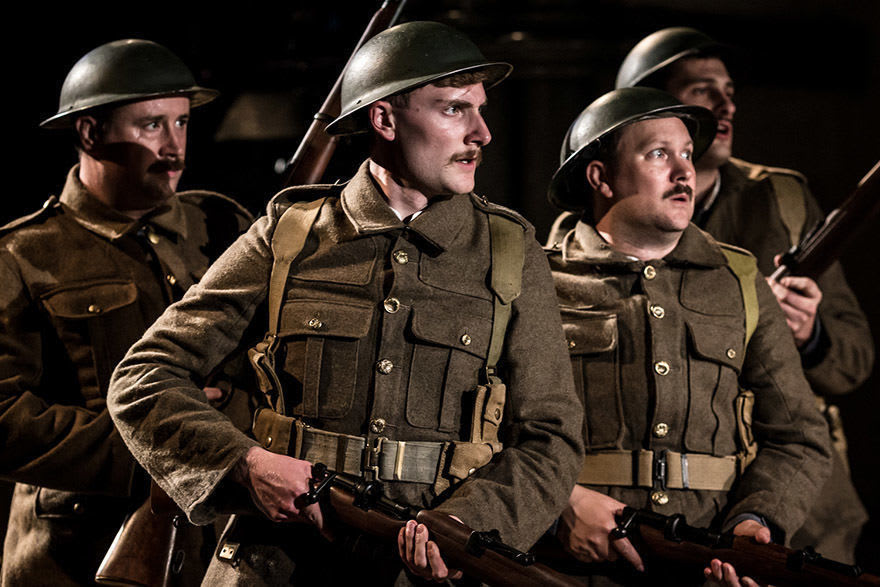 Antic Disposition's performance of Henry V opens with an iconic scene from the First World War. A uniformed soldier wearing a white bandage over eyes blinded by gas rests an outstretched arm on the shoulder of the soldier in front of him. A nurse leads them to a treatment centre in France not far from the front line.
This is just one of many striking images in a production being mounted beneath the grand internal stone arches of Southwark Cathedral.
The play imagines a group of uniformed French and British soldiers at the hospital performing Shakespeare's Henry V.
We hear very little of the framing play, but it does shape the mood and occasionally deliberately intrude into what Shakespeare wrote. The sombre context is emphasised by the cast singing between scenes the melancholy poems of A E Housman to music by Christopher Peake.
There are moments of humour, such as the opening funny attempt by a soldier to recall his lines as he plays the Archbishop of Canterbury about to give a fraudulent justification of England's claim to France.
But the scene that left many of the audience in tears was that in which Henry (Rhys Bevan) is about to execute for theft the character Bardolph. This event is too much like the horrors of battle for the soldier (Adam Philips) playing the part who breaks down in a terrible fit.
It does seem improbable that English officers should in the context of French defeats decide to mount a play in which England conquers France killing thousands of French people. Antic Disposition acknowledges this by having the first French soldier given a copy of the text fling it to the ground in disgust.
One solution to this issue might have been to give the play an anti-imperialist tilt. It is something that a number of directors have done in this era of UK/US adventures in the Middle East. Instead this production cleans away some of the more unpleasant aspects of Henry's war, and by a timely interruption of artillery fire outside the hospital they avoid showing the actual fighting between England and France.
Gone are the executions that precede the war, and the murder of the French prisoners.
However one scene that remains is given a more powerful punch by its First World War context. Henry in disguise walks the soldier's campsite the night before battle and hears ordinary soldiers' doubts about those who lead them into battle. When the character Williams (Stephen Lloyd) speaks about the unfair class differences in the way they are treated, you could imagine him speaking for many in the trenches.
This is an entertaining, accessible production performed by a confident and effective cast. Rhys Bevan as Henry is particularly strong.
The show ends with the soldiers receiving orders to return to the frontline. They march off to what we suspect for most is certain death.
Reviewer: Keith Mckenna