Henry V
William Shakespeare
Propeller
The Watermill Newbury
–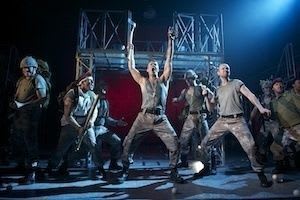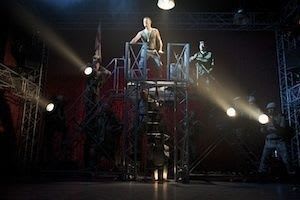 Propeller Theatre returns to Newbury with a testosterone-charged, all-male cast production of Henry V.
The Watermill is certainly their 'spiritual home', having started their fledgling career over 15 years ago with the encouragement of the then theatre director the late Jill Fraser. Propeller has gone on to become a highly successful international touring company visiting such countries as China, USA and Australia.
So it was exciting to see them return to their roots and this high energy, physical production is a triumph. From the moment the audience entered the foyer, Balaclava-clad soldiers in battle fatigues were menacingly milling around.
Director Edward Hall's thrilling production is as much to do with the common soldiers as with royalty. These foot soldiers are our chorus, urging us to use our imaginations to create the armies, horses, castles and battlefields. They use unaccompanied battle songs and religious psalms to great effect and play a variety of musical instruments with utter confidence, even entertaining the audience in the interval.
Michael Pavelka's stark design, consisting of an unembellished moving metal tower and simple props, creates both a tense and war-torn atmosphere and the royal palaces.
Douglas Bruce-Lockhart is excellent as the fiery, powerful Henry leading his men from the front as he sets off to cross the channel to conquer the French at Agincourt. John Dougall is the fittingly majestic King of France, humbled in his defeat.
The horrors of the war are juxtaposed with some humorous touches. The bathroom scene in which Karl Davies as Katherine, the French Princess, is shaving her legs in the bath whilst trying to learn the English names for parts of the body from her maid Alice (Chris Myles) is hilarious.
Tony Bell as the Welsh Captain Fluellen is a loyal and pragmatic soldier encouraging his men into battle. There are strong performances from the beer-swilling squaddies Nym (Finn Hanlon), Bardolph (Gary Shelford) and Pistol (Vince Leigh).
The battle scenes are full of energy and attack with convincing sound effects by David Gregory and dramatic lighting by Ben Ormerod.
This is an electrifying, dynamic production filled with verve and vitality performed by a highly talented cast. Fight for a ticket; it's unmissable.
Tours to Theatre Royal Newcastle, Belgrade Theatre Coventry, Theatre Royal Norwich, Theatre Royal Plymouth, Globe Theatre Neuss Germany and Hampstead Theatre London.
Reviewer: Robin Strapp