Henry VIII
William Shakespeare, John Fletcher and Hannah Khalil
Shakespeare's Globe
Shakespeare's Globe
–

Listing details and ticket info...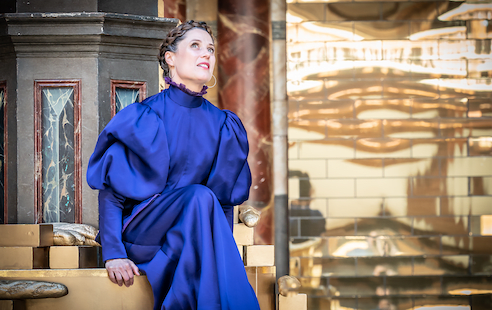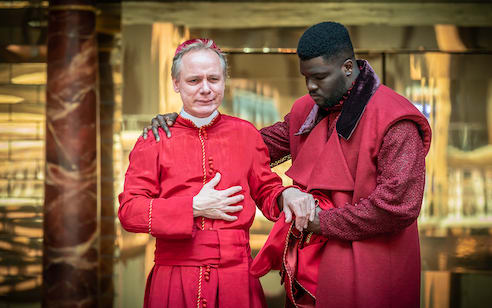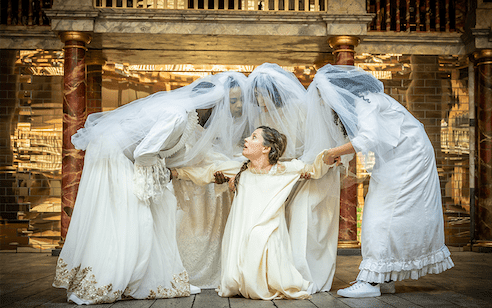 Shakespeare and Fletcher's partnership on this play now has a third collaborator. Henry Tudor's was a male world, history shaped by his wish for a male heir. Today we have a different ethos and talk at least of gender balance. The Globe and director Amy Hodge asked this year's resident writer Hannah Khalil to "sculpt the play into an exploration of the female experience."
It is a rewrite that uses Shakespeare's own words, for she has cut and refashioned it by ferreting through his plays and poems to lift whole lines and snip out phrases to re-use them.
The play begins soon after the return of king and court from France and his ostentatious meeting with Francis I on the Field of the Cloth of Gold. Designer Georgia Lowe brings that opulence on stage, covering its façade with gold mirrors, setting gold steps down to the yard and piling up gold props, but this isn't the play of pageantry and processions that once made it popular.
Nor is this the hearty Henry of the Holbein portraits but a skinny figure, already grey bearded, who can fly into almost hysterical rages.
Adam Gillen's Henry meets Anne Bullen (Janet Etuk) at a raunchy party where they cavort with a giant gold penis that outdoes any memories of Peter Brook's National Theatre Oedipus. The emphasis on male primogeniture is echoed in pink and blue balloons; His Majesty angrily bursts the pink ones. In contrast, Anne suffers agonising birth pangs as she delivers a daughter.
The main amendment though is the presence of Princess Mary (Natasha Cottriall), the King's first child, looking on in many scenes and vowing vengeance as she sees her mother Katherine (Bea Segura) displaced. She also pairs with Narrator / Singer Genevieve Dawson in sung comment.
Cardinal Wolsey, rather than Henry, was the role that used to attract actors like Irving to this play, while Queen Katherine's fine speeches were one of Ellen Terry's triumphs. We see Jamie Ballard's Wolsey packing gold bars into a gold valise as the Dukes of Buckingham and Norfolk talk of his ambition, but he makes him moving when he divests himself of his red robes when he falls from power, a stripping that is a very different symbol to that of Henry, dressing gown flaring, as he masturbates on the gold toilet that hides behind his throne.
Bea Segura brings both graciousness and an element of Catalan fire to her Katherine, pleading for the life of Buckingham, refusing Wolsey as her advocate before a church tribunal and most moving in her death scene.
Buckingham (Jonah Russell), targeted by Wolsey, has his own moment, dragged up from a dungeon in bloody rags but eloquent before execution when Henry's Chamberlain (Kevin McMonagle) puts out a pistol.
In the yard, a couple of commoners (Anna Savva and Debbie Korley) are ensconced on plastic blow-up chairs covered with pigeon droppings. They act as a kind of chorus as well as getting involved in the action, giving peers a pedicure for instance. They double as royal servants, but station is unimportant when this production gives all women a voice together.
From an opening number that asks "Oh Why?" to the appearance of the First Elizabeth speaking to her people, this production does push the female forward but it is pretty zany—that's its point perhaps: it shows an irresponsible, self-serving male world.
Reviewer: Howard Loxton