Henry V
William Shakespeare
Propeller
Yvonne Arnaud Theatre, Guildford (touring)
(2011)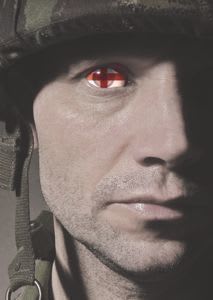 The noisy chattering from some large school parties rose to a crescendo, but this is totally overpowered when troops of British soldiers, in present-day battle dress, rush down the aisles singing their marching songs. "The arms and legs of other men were scattered on the ground" a refrain which brought pictures to mind of other men in other battles and the sobering thought that not much has changed. This on the eve of Armistice Day too.
Auditorium lights are left on for the prologue while the chorus addresses the audience, Shakespeare's verse explaining that only so much that can be done to reproduce the huge armies and vast fields of Agincourt in the available space, and exhorting us to use our imagination. The cast surveys the audience, hoping we are taking notice and will 'be kind'.
For an all-male company, this is a very convenient play to present as there are only two main women in the cast, both portrayed as very contrasting stereotypes and seemingly there only in relation to the attitude of the men. Tony Bell plays Mistress Quickly as a caricature, the bride of lower-class Pistol (Vince Leigh), and 'one of the boys', swilling beer from a can and the butt of their jokes, while Karl Davies is a complete contrast as a very credible and suave Princess Katherine of France with his little lip-sticked bow of a mouth and haughty air. His main scene is conducted in French as, reclining gracefully in a bath, he makes some very comical attempts to learn English.
Bell seems more comfortable back in his own sex with a totally believable but comically Welsh Captain Fluellen. Gunnar Cauthery is a very 'religious' Archbishop of Canterbury, looking out for himself and the church rather than the needs of the country, and Cauthery switches sides to become the Dauphin and just as belligerent in a French style.
The main protagonist is, of course, Henry V and he is brought to vivid life by Dugald Bruce-Lockhart, first of all a king quietly worried about the enemy on both sides, France and Scotland, then having made his decision to conquer France setting out to inspire his men with bravado, the rhetoric delivered with conviction. Addressing the audience as Yeomen, with a cry of 'God for Harry, England and St. George' he leads his men in a tumultuous charge through the theatre.
The set, as much gymnasium as battlefield, gives the performers a healthy workout as they climb, leap and fight, and the huge punchbags have an unusual function. Blows are delivered to them with strength and force, while the virtual recipients writhe in agony on the floor—surprisingly effective.
The main impression of Edward Hall's production is the contrast, scenes sometimes coming as a complete surprise, or often a shock, as they change from serious speech to comedy, to music, to battle or to skirmishes and some very violent treatment of prisoners, often having the audience jump to attention at the sudden eruption of sound and fury. Nobody sleeps in this show, interest is kept high at all times, with flashes of humour contrasting with the drama. There is music too, on a variety of instruments played by the cast, and some melodic unaccompanied singing. The whole theatre is used from stage to circle, even providing music and song on the foyer staircase in the interval.
Performed with energy, expertise, enthusiasm, effort and endless rehearsal—excellent.
Touring to Brighton and Milton Keynes, then 'The Winters Tale' in Sheffield. Both plays then tour to Canterbury, Newbury, Newcastle, Coventry, Norwich, Plymouth and The Hampstead Theatre, London.
Reviewer: Sheila Connor