Henry V
William Shakespeare
Southwark Playhouse
(2010)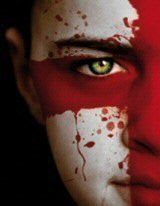 The programme for this adaptation of Henry V urges its audience to focus on story, rather than historical drama - a story powered by thought. The venue, a chilly converted railway tunnel with the sound of trains overhead, is well suited to the Chorus's plea that we transport our imaginations from this place to the "vasty fields of France".
Pastimes such as tennis and chess featured in plays of the time, and here the floor has been painted as for a large board game. On entering the playing space, the audience is given either a red card (for England) or a blue card (for France), but we are never given the chance to cheer for either side - a relief for those who don't like audience participation, but a bit of an anti-climax for those that do.
The production contracts Shakespeare's history play into just 90 minutes with some dialogue re-written in Shakespearean style. What this does is to throw into relief the brilliance of Shakespearean language and metre as, love him or loathe him, the lines that really work (and that are retained) are his own, including Henry's speech at St Crispin's Day, and Catherine's famous French lesson.
There is an ingenious use of props: plastic storage boxes are boats and battlements; skittles are men in battle. As the small cast of seven marches in unison in red-hooded macs, the image of weary men, rain and mud is magically rendered: praise due to Movement Director Leon Smith here.
The cast includes a nice mix of youth and experience with Anna McSweeney (seen in Jane Campion's Bright Star) dynamic and expressive as the Chorus that glues everything together, and an impressive professional debut from Tom Greaves as Henry.
Those who like their Shakespeare 'straight' would undoubtedly want more than the scant touch of traditional Harry that this night offers. Best to leave behind thoughts of the original, and enjoy it for what it is - an innovative idea in a great location; just don't forget to bring an extra warm jumper.
Reviewer: Anita-Marguerite Butler