Henson's Alternative Puppet Up

Henson Alternative
Assembly Hall
–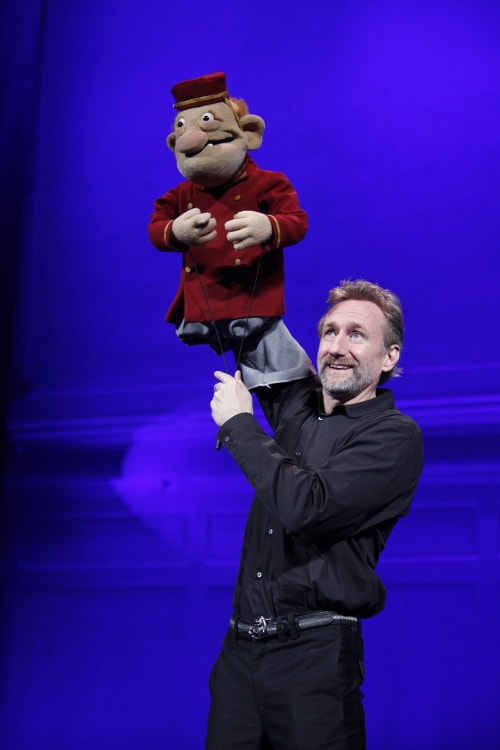 In 2006, the Jim Henson Company came to Edinburgh with a brand new idea: puppet impro.
Get a load of puppeteers together with an experienced improviser—Patrick Bristow—as compère (and trainer) and get them to carry out the games and exercises familiar from impro (or improv in the US) groups such as the Comedy Store Players and Paul Merton's Impro Chums as well as Whose Line Is It Anyway? on TV. The situations are familiar to impro fans but performed by puppets in the familiar Henson style, which gives them a whole new twist.
Seven years on and Puppet Up is back, after many performances in the US. The show has developed so that some of the games are more suited to the form, with a few old classic scenarios thrown in. Like other impro shows, there are set exercises elaborated with suggestions from the audience, so it really is a new show every night.
It takes a short while to tune into the style of performance if you haven't seen them before. As Barry the Usher (one of the puppets) explains at the start, it's two shows in one as it is performed in the way Henson devised for TV, with puppeteers holding puppets up in front of a camera watching their own performance on monitors to see how it looks on screen. So you are watching the mechanics of a puppet show on stage and the results on large screens behind them. But it works brilliantly.
Beware that there are a couple of audience participation bits other than the shouted-out suggestions, but one of them is the chance to be a puppeteer improviser with the group, which is quite exciting, and the participants are each given a hot dog puppet replica for their contributions.
A nice extra part this time is recreations of two of Jim Henson's classic short pieces for TV from the 1950s and 1960s. While I've seen the old TV recordings, it's very nice to see them performed live by the company he formed.
A couple of slight disappointments are that we didn't get to see Brian Henson this time, as the puppeteers rotate throughout the run, and the price of the tickets which, at between £20 and £25 depending on which part of the week you book, must be one of the most expensive tickets on the Fringe. This may have contributed to the fact that Assembly Hall didn't even bother to open the balcony—surely a visit to the UK from the Henson Company should be packed to the rafters every night.
Both the puppetry and the impro are carried out with great skill and the whole show is very funny and superbly entertaining. While many impro shows are basically the same, this one offers a big twist that makes it well worth seeing. Maybe Brian will be on stage when we see it again next week...
Reviewer: David Chadderton