Hera's List
Eve Harrison
Tête-à-Tète: The Opera Festival 2012, Riverside Studios
–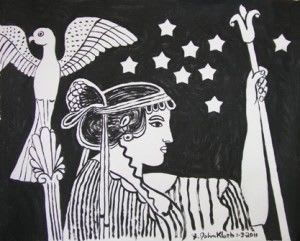 A commendable performance of Hera's List at Riverside Studios confirms the continuing commitment of Tète à Tàte: The Opera Festival—now in its 6th year—to promoting promising young theatrical and musical talent.
This latest music theatre work by the young composer Eve Harrison follows the merciless scheming of the goddess Hera as she and her fellow Olympian goddesses, Demeter and Hestia, seek to overcome boredom by handpicking goddesses to seduce the grieving, and rather gormless mortal, Ashdon. The paradoxically human vulnerability of the deities, most poignantly revealed in Hera's final line: "... I get so lonely", is emphasized by Harrison's pithy libretto, and complemented by the terseness of Harrison's score, which, at times, flirts mischievously with the actors' lines.
The piece sparkles with a subtle wit, both dramatically and musically. The control with which the narrator, played by Rachel Gilmore (who doubled as Hestia), conveys the nuances of the plot's dark humour is in no way undermined by her animated presence, while Kore (Fiona Constantine), the first of Hera's chosen seducers, excels in the burlesque role of a teasing seductress.
Harrison's meticulous orchestration allows for each instrument to 'get into character', with each episode of seduction augmented by changes of texture and timbre; amusingly, the players respond to the dancing Terpsichore by entering into their own swaying dance while playing deliberately crudely. Harrison prioritises close integration between singers and players throughout: the dramatic impact of the orchestra's ghoulish, physical presence on stage is powerful, particularly during the climactic final scene in which the wind players leave their places and join the front of the stage with the actors.
The production brings together a chamber orchestra comprising seven of the Royal Northern College of Music's best players and seven young opera singers, most of whom were also affiliated with RNCM or York University.
Formed under the auspices of the new music promoters Sounds of the Engine House, the work is presented now as the inaugural performance of Ignite Music Theatre, a new branch of Engine House, dedicated to the celebration of innovative musical theatre productions. It is co-directed by Harrison herself and James Whittle, who is currently completing a course in composition at York University, and under whose excellent conducting the musicians of Hera's List achieved a tight ensemble.
The interplay on stage of the musicians and actors was a dramatically important feature of this pioneering work; let us hope that future collaborations between Harrison and Whittle will fulfil the promise of this interesting enterprise.
Reviewer: Rachel Coombes