Here Be Monsters
Adapted from Jonathan Emmett's book by Belfield and Slater
Mayflower Production and Belfield and Slater Musicals
The Haymarket, Basingstoke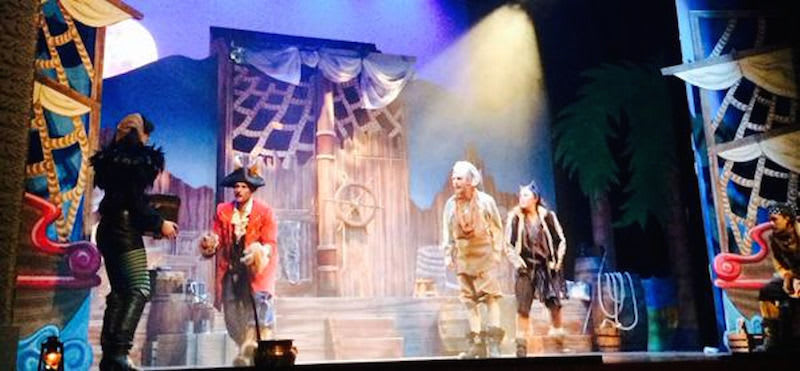 Robin Belfield and Simon Slater are perhaps best known as the writer-director and composer of the Newbury Watermill Theatre's Christmas shows.
They have now turned their considerable talents to adapting Here Be Monsters based on the delightful children's story by Jonathan Emmett.
Designer Rachel Fox has created a colourful multi-level set representing the deck of a pirate ship complete with a skull and crossbones flag, creating much excitement among the youngsters sitting next to me.
Captain Cut Throat and his motley crew set sail to find a distant island and to try to discover the treasure of jewels and gold that are hidden there. But there are rumours that there may be monsters lurking in the murky waters and his fellow shipmates are not convinced by his reassuring announcement that, "monsters simply don't exist."
The versatile, energetic cast of five—Eloise Secker, Josh Sneesby, Lauren Storer, Ben Tolley and Toby Vaughan—are accomplished actor-musicians playing a variety of instruments including accordion, banjo, guitars and a drum box.
Their characters include Stinky O'Bleary, whose problems with wind cause much hilarity, and then there is Sneaky McSqueaky, the rat, and two other dastardly pirates.
Slater's catchy, jaunty tunes are a delight. There is much knockabout fun as the ship reaches the island which is surrounded in mist and the monsters appear as giant puppets who are not too frightening for the youngsters and take away the crew one by one leaving the Captain on his own.
There are many fun elements of pantomime as the children are encouraged to shout out that the monster is, "behind you". They grew in confidence to participate loudly as each one appears.
With just the right amount of scariness, the story is told using rhyme with some reassuring repetitive phrases.
The small but eager young audience were suitable frightened and were enjoying every minute of this rumbustious tale. It was good to see that the Haymarket had provided booster seats so they could see all the action.
This is a captivating swashbuckling show for three-year-olds plus and their families and is tremendous fun.
Reviewer: Robin Strapp