Here Come the Boys
Choreographed by Gareth Walker
Steven Howard for The TCB Group and David Shepherd for TEG MJR
London Palladium
–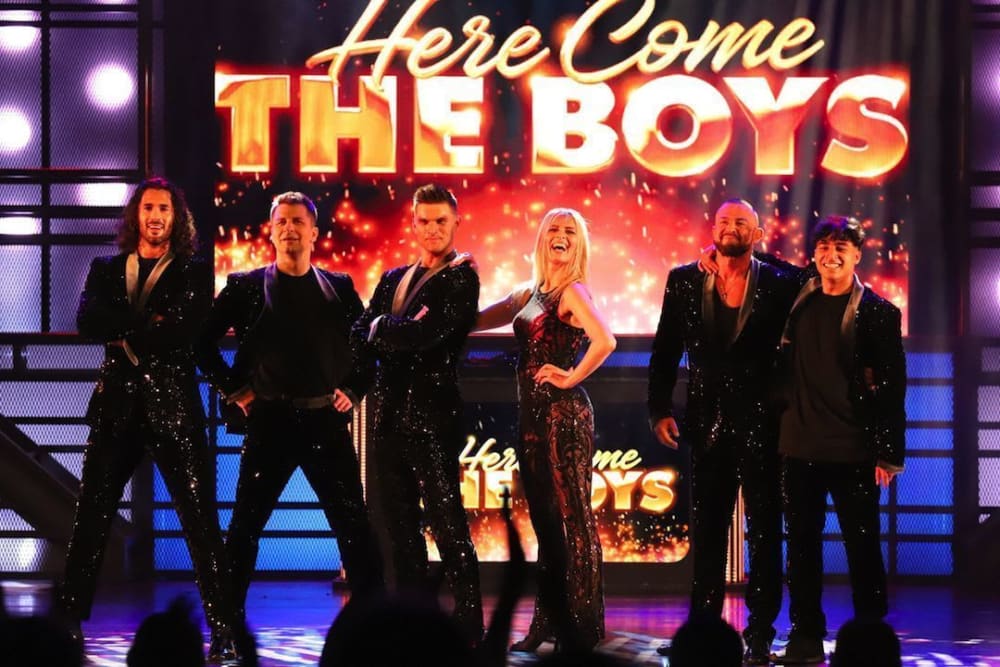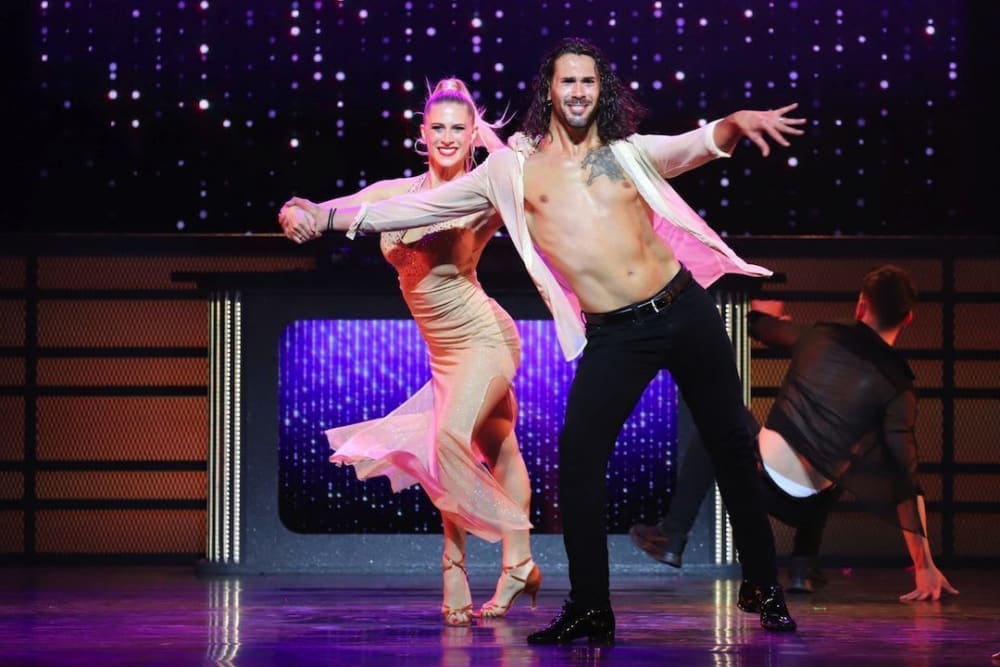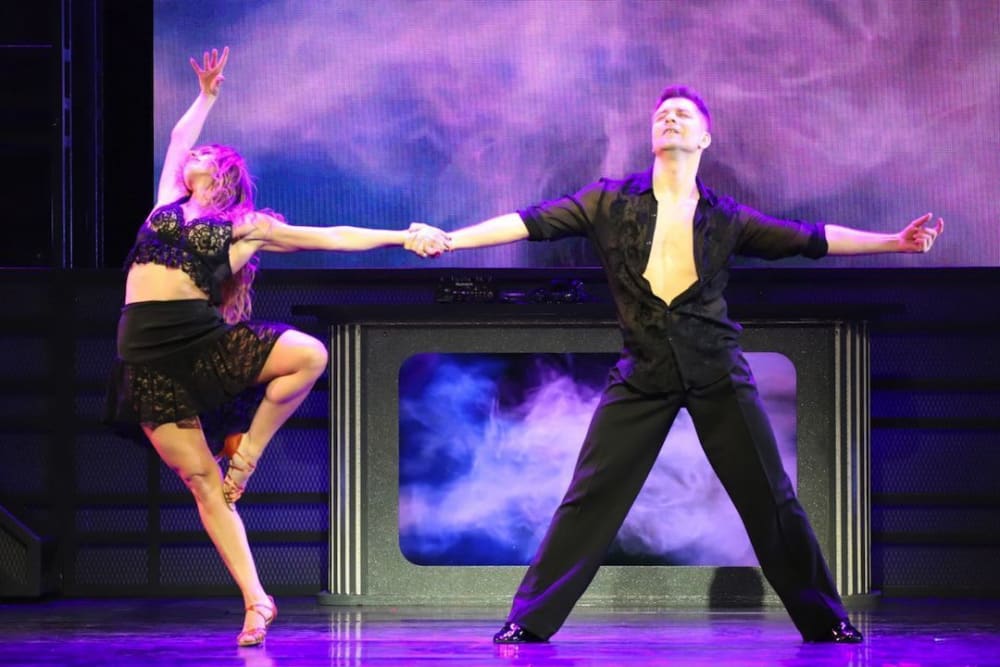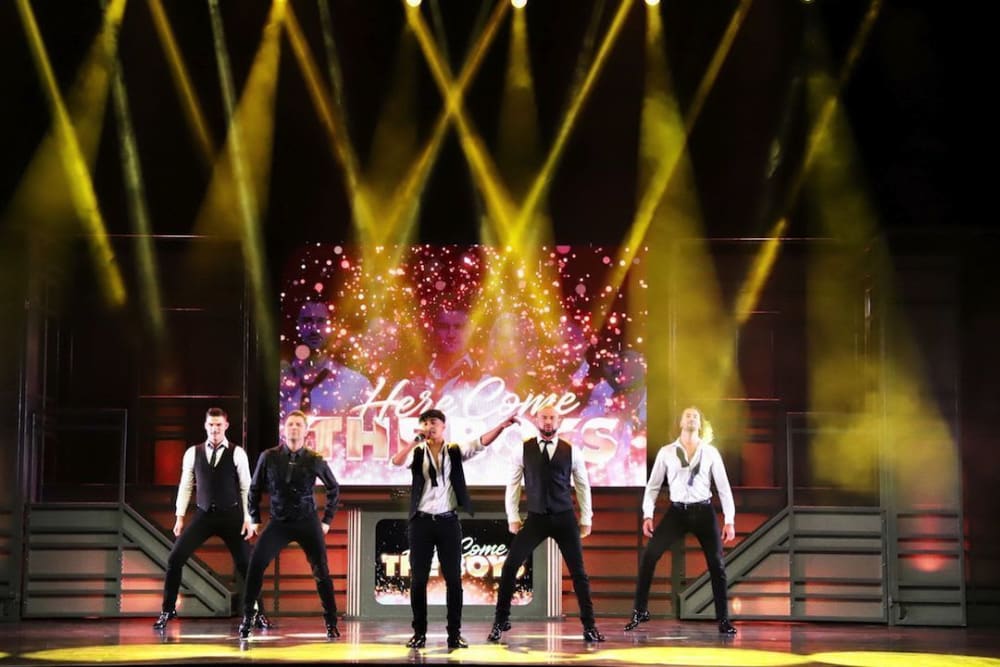 With a team of professional dancers from Strictly plus a celebrity finalist, this is a show that promises, and delivers, some top-notch dancing but it misses out on the glitz and the glitter of the BBC favourite.
Against a black set, costumes are based on a palette of black, white and pink and patterns. It relies on patterns on a video screen and Leigh Mulpeter's lighting to provide most of the colour, though as the show progresses rhinestones are sprinkled more freely and a sequence in white naval outfits makes a welcome change. Here Come the Boys will tour after its brief London season, which perhaps accounts for this simple setting.
Gareth Walker frequently frantic choreography doesn't break any new ground but knows how to dazzle. His dances are grouped into themes: Idols, Latin, Heroes, Evolution, After Hours, even one inspired by TikTok, plus a good measure of Hip Hop. These are interspersed with a series of "battles" in which lead dancers Slovenian Aljaž Škorjanec, Sicilian Graziano di Prima, Pasha Kovalev from Siberia and homegrown Robin Windsor compete in various dance forms supposedly chosen at random (though they occur in the same order as the programme lists them: Jive, Salsa, Ballroom and Rumba).
An opening welcome and housekeeping announcement turns out not to be from the house staff but beatboxer Bass 6 who soon segues into his own performance before becoming a supposed DJ who will pop up through the show (even running a brief beatbox battle) though in place as MC is Karim Zeroual, who introduces and sometimes interviews his fellow dancers.
This may be Here Come the Boys and sometimes they become a male ensemble, but each is also paired with a female dancer: Aljaž with Strictly's Nadiya Bychkova, Graziano with Giada Lini, Pasha with Rose Wilde, and Robin with Ash-Leigh Hunter. Grace Cinque-White completes the female team, but Karim is often flanked by the athletic George Michaelides and Michael Scott.
There are stylish lifts, especially when Pasha spins Giada high overhead, even a lively shimmy and a great celebration of swing, but perhaps not enough ballroom for Strictly fans. Walker's choreography often has a dramatic charge but it is not until the After Hours sequence that we get any real sense of story in a set of domestic duets that explore passionate relationships.
While everyone in the team displays their skill, it is Aljaž connects most with the audience, often through the smallest of gestures. It he who, though references to the pleasure at being back in live theatre crop up fairly frequently, links this to the "battle" theme. The return to live theatre may seem a battle won, but he reminds us of the battles lost, not only by COVID's immediate victims but also by the dancers and other freelance theatre workers, unfurloughed.
After the formal finale, the company has added a lovely coda: their evocative tribute to the NHS and other frontline workers. I wish there could have been such contrasting elements in the rest of the show, which could do with some relief from its loud, pounding soundtrack.
Reviewer: Howard Loxton