Here
Michael Frayn
A Rose Theatre Production
Rose Theatre, Kingston
–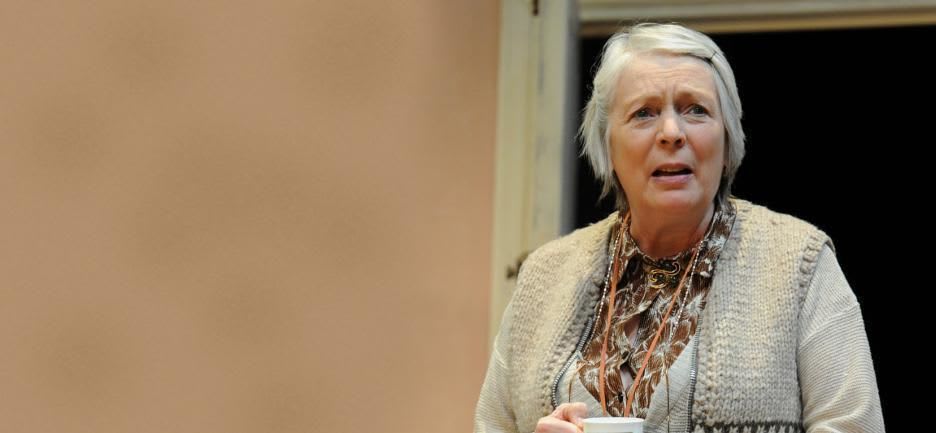 Here is full of laugh out loud material, fizzing with fantastic quips, and yet a tad depressing as you watch a couple blunder on in blind ignorance to any of their real problems. Michael Frayn's Here has been subject to three rewrites, it's original premiere at the Donmar Warehouse in 1993 receiving somewhat underwhelming reviews. More of a reflective study on the intricacies of a relationship than a plot driven piece, it is Frayn's dialogue which captures the audience. There is brilliance in the stilted conversation, but it's below the running jokes that the really important stuff is conveyed unspoken.
Cath and Phil are a young couple looking for an apartment to move in together. The audience is laughing minutes in at the couple's terror to commit to this big decision. In fact Phil is so evasive about making any decision he instead focuses on the process of decision making in general. Their conversations are littered with quick pauses, and changes of tack as the pair constantly try and second guess the other's mood. The very stylized speech patterns take a few moments to settle in, and then every audience member recognizes the familiar pattern of conversations that they'll have had themselves.
Their new flat is on a thrust stage specially constructed for the show, bringing the couple right into the audience. The set is a cross section of a tired, bare little flat. Polly Sullivan (set and costume) evokes the previous lives lived out through the flat, with layers of different coloured paint, peeling triple layered wall paper finished off with a ghastly chintzy curtain.
At times pedantic nit-picking Phil (Alex Beckett) makes you want to scream, but at just the right instant the release comes, and the audience ripples with laughter. This, coupled with director Lisa Spirling's choreography, pushes the work to slapstick moments that really have the audience roaring. Frayn cleverly builds a running joke around Phil's favourite expressions; using disingenuous and inauthentic will never be the same again!
The final gem is the introduction of Pat (Alison Steadman), whose voice is so different from the ever evasive couple. Pat gets straight to the point, blundering into the flat at the worst of moments, and is that ever-present neighbour you cross your fingers not to bump into or you'll never get rid of. Steadman brings hilarity, transforming into an older woman with a runaway tongue and wonderful comic timing.
The second half shows the couple finally settled into their flat, (which incidentally now looks rather nice) but it's not a rosy existence. The claustrophobia of the four walls is eating at their relationship, and each other's habits have turned into their pet hates. Scared to be without each other, they murmur "I love you"s, but these are platitudes covering up the cracks of frayed tempers. Alex Beckett's confused desperation is touching and infuriating all at once and complimented by Zawe Ashton's (Cath) swinging moods. She captures the female art of flipping from come hither tones to desperate neuroses, finding the invisible unsaid criticism in everything. Neither can understand the other's point of view, and it is only Pat that sheds some light on their mess as she reminisces about her relationship with her dead husband.
In a final bid to change the state of affairs, the pair move on to a new flat and hopes of new dreams. The horror of the decision making is already creeping up before they've even finished packing away the last items and you know that nothing will change no matter where they live.
There are moments when Frayn's relentless bickering dialogue becomes too much, and you desperately wish for a fast forward button. Luckily for each time it gets to this point, there is an equally brilliantly funny moment of stagecraft. An excellent team of actors pulls together this less than cherished play, allowing Frayn's writing to sparkle as it trips off their tongues. Spirling's new production of Here will have you giggling all the way through, if feeling a little blue about relationships in general.
Reviewer: Louise Lewis