Hero's Welcome
Alan Ayckbourn
The Stephen Joseph Theatre, Scarborough in association with Yvonne Arnaud Theatre
Yvonne Arnaud Theatre
–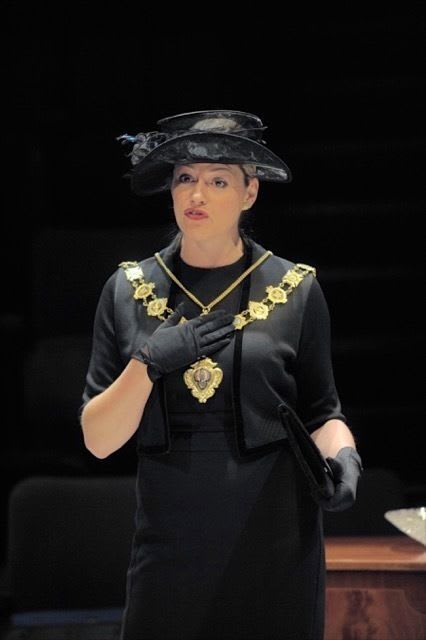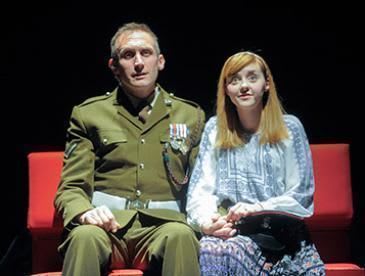 The sound of cheering for Murray, a war hero returning to his home town after 17 years, melts into a television interview where, in uniform, he sits disclaiming all accolades.
"Just what anyone would do" he says modestly while his young foreign bride Baba, knowing very little English, sits watching him adoringly, but not everyone is happy to see him again. Richard Stacey plays him as good-natured and kind, but he left under a cloud having run off leaving his pregnant bride at the altar. Has he now become a hero?
We also learn later that facts were manipulated to cover up discrepancies in the 'hero' story, but that theme is left undeveloped, and the play has less to do with heroes than with male rivalry, a subject which Ayckbourn admits has always fascinated him. Murray's meeting with boyhood best friend Brad brings this to the fore, at least on Brad's side. This thoroughly obnoxious man belittles and humiliates his lovely wife, becomes ever more furious that Murray seems to beat him at everything and makes a bet that he can get Baba to sleep with him.
Meanwhile, Elizabeth Boag's deserted bride, Alice, has taken charge of her life and is now the local mayor (definitely not Mayoress). She is married to Russell Dixon's Derek, a much older and safer man, while happily accepting his obsession with model railways. She is not best pleased to see Murray, but she is more concerned about his plans to stay in the area and take over the run-down pub which had been his family home, having her own plans as a property developer and not above a little manoeuvring with the law to get what she wants—a far cry from her performance as the Lady Mayoress in the companion play Confusions.
The story is more character-driven than situation comedy, although there is still plenty of laughter, at least until a darker tone begins to creep in, as we get to know more of their lives and discover why Derek is so obsessed with his railway, why Murray deserted his bride and how and where Brad first met his unfortunate wife.
About to set off on a short tour and running in rep with Confusions, the same cast of five (plus one) take over the the roles here and take over the characters so completely that you can recognise every one as someone you probably know. Brad is almost a caricature of a man covering his inferiority with an unfeeling, swaggering arrogance, but the excellent Stephen Billington makes him so very real that his comeuppance causes no tears to flow.
The whole cast excel, including the 'plus one' Evelyn Hoskins as Baba who learns English at a prodigiously fast rate and endearingly pronounces each ever more impressive word syllable by syllable as she practises, somehow knowing exactly where to use them for most effect. Progressing gradually from a timid, self-effacing foreigner to being totally in charge of herself and others, could it be she is the real hero of the tale?
It is the women who are usually the stronger and more resilient in Ayckbourn's plays and even Emma Manton's Kara, the 'smiling through her tears' wife, finally manages to assert herself—with a vengeance.
Fascinating throughout, as other people's lives usually are, yet leaving a strange feeling of dissatisfaction as if something is not quite finished. Well worth seeing just the same.
Reviewer: Sheila Connor