Heroine
Nessah Muthy
HighTide, Theatre Clwyd
The Mix, High Tide Festival Walthamstow
–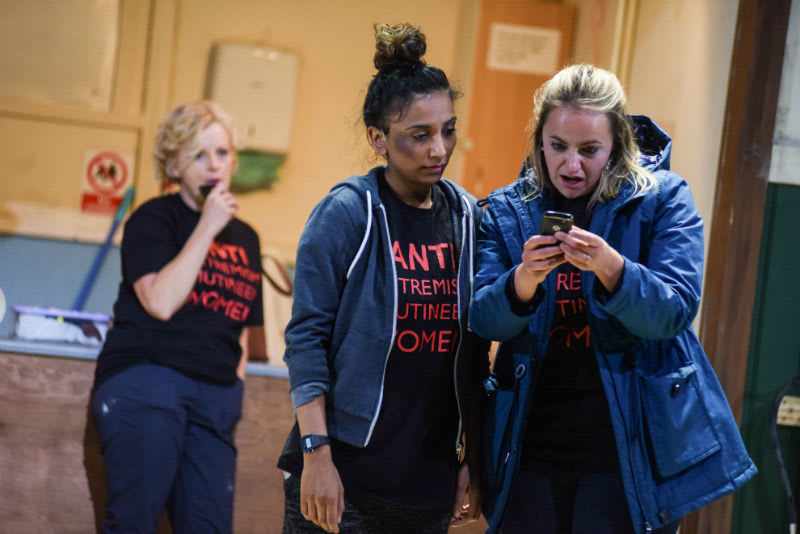 Anyone observing the English Defence League will have noticed that their protests against "Islamic Extremism" or "sexual grooming gangs" are little more than a cover for a general attack on Muslims and South Asian people.
Therefore it is a surprise if they get any kind of support from someone targeted by their racism.
Nessah Muthy's play Heroine gives us the story of the character Grace (Asmara Gabrielle ) who looks South Asian and yet does just that.
A recently discharged soldier who fought in Afghanistan, Grace claims she wants to make a difference in the world. Getting involved with a group of older white women who are campaigning against the closure of a local community centre, she very quickly shifts its activities in a racist anti-Muslim direction.
Arguing it is not enough to petition and march, she persuades them to take direct action.
They try to invade the council offices where she makes a speech against Islamic extremism. Later she gets them to join an EDL march in London.
The show reveals something of the other women's back-stories. Cheryl's (Wendy Morgan) daughter was a medic killed in Afghanistan, Wendy (Lucy Thackery) at one time was a member of the EDL (a reason she is reluctant to have any further connection with them.) and Beverley (Maggie McCarthy) works in a school.
Although there is a confident performance from the cast, their dialogue is too often narrowly concerned with giving us information rather than developing character or issues.
It is Grace's story we want to understand and that is denied us. It is implied that as a child she had an absent father who was Muslim, and that her grandmother warned her to stay away from Muslims. There is little else.
We are instead left with just another representation without context or explanation of a troubling extremist to haunt the imagination.
Reviewer: Keith Mckenna