Heroin(e) for Breakfast
Philip Stokes
Horizon Arts
Warehouse Theatre, Croydon
(2010)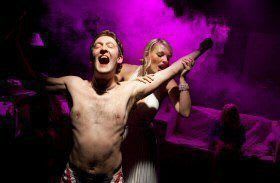 Is anyone else sick of being harangued from the stage? For being too middle class, or too complacent, or too passive?
It's a technique that suffers from the law of diminishing returns. If Heroin(e) for Breakfast were the only play to barge down the fourth wall and berate the audience about their lifestyle, it would be groundbreaking, challenging, even blistering in its attack on modern social mores. But Tim Crouch already did it in The Author, Lowri Jenkins did it in 19;29's Threshold, David Leddy did it in Sub Rosa - and that's just counting shows at this year's Edinburgh Fringe. At the risk of sounding too middle class, one can only take so much.
The character doing the ribbing in this case is Tommy Croft (Craig McArdle), a self-styled revolutionary and, almost incidentally, a heroin user. Being quite justifiably fed up with being judged and diagnosed by the moral majority, Tommy injects them (i.e. us) with a strong dose of their (our) own medicine and - in a rare case of recursive double irony - proves his own point about the ineffectiveness of the hectoring sermon as an incentive for behavioural change.
In the beginning, Tommy's fun to be around. He speaks his mind, he's got an offbeat worldview and a gleefully filthy way with words. So are Chloe and Edie (Kirsty Green and Kate Daley), the girls that share his flat (and affections): playwright Philip Stokes has a good ear for corrosive snark, and the pair fling his stinging lines laconically across the stage, like paper planes full of anthrax.
Even the play's most hazardous theatrical conceit, the personification of heroin in the body of Marilyn Monroe (actually Hayley Shillito), is executed with such balls that only the most hardened Naturalist wouldn't buy in.
But come act two, the bunch of them have become tiresome. Tommy's metatheatrical asides begin to seem gimmicky. The girls drop the subtext-laden sarcasm and just shout at each other (and Tommy) instead. Heroin(e)'s oratory gets repetitive, and with each repetition rings increasingly hollow.
If the point is that heroin addiction makes you strung-out, paranoid, delusional and dull, Heroin(e) for Breakfast succeeds a little too well. Of course it wouldn't be realistic for the light-hearted fun and games to continue once the shooting up begins, but the tonal shift is such that the play actually ceases to be engaging. And sorry, Tommy: whether it's coming from the pulpit or the pews, a sermon's a sermon, and no one reacts well to being told how to live.
Until 31 October
Reviewer: Matt Boothman