Hetty Feather
Jacqueline Wilson adapted by Emma Reeves
Nuffield Southampton in association with William Archer, Kenny Wax and Novel Theatre
Nuffield Southampton
–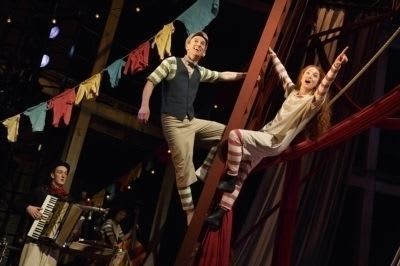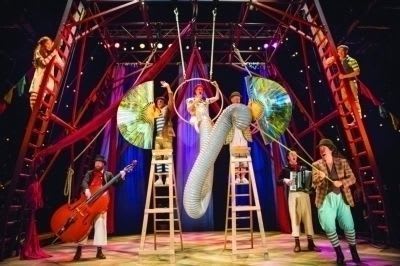 The Nuffield in Southampton has an enthralling family adventure for its Christmas entertainment. Hetty Feather is based on the children's book by best-selling author Jacqueline Wilson and has been beautifully adapted for the stage by Emma Reeves.
It's a wonderfully moving story set in Victorian England about a young girl, Hetty, being abandoned by her distraught mother to the Foundling Hospital in London and her quest to be reunited with her birth mother.
The brightly coloured set, designed by Katie Sykes, is a circus big top with a hoop ring suspended centre stage. Ropes and red drapes are inventively used as they become trees to climb and play on and ladders are cleverly used as beds or places to hide on.
This is very much an ensemble piece with many of the six talented actors multi-roling to great effect and with tremendous energy. There is impressive aerial work and circus skills with strong physical performances.
Phoebe Thomas is outstanding as the feisty, red-haired Hetty, who starts her life being fostered by the loving Peg with a heart of gold, delightfully played by Sarah Goddard.
Peg's son Jem (Matt Costain) is determined to save Hetty when he grows up and promises to marry her.
Also being fostered are Gideon (Mark Lane) and the sickly, spiteful Saul (Isaac Stanmore). Their joyful, carefree childhood soon comes to an end when they reach the age of six and have to be returned to the harsh regime at the Foundling Hospital.
In charge of this heartless institution is the strict, domineering Matron Bottomly, superbly portrayed by Matt Costain, and woe betide any foundling that falls foul of Matron as poor Hetty finds out when she is sent to the dark and horrible attic.
Hetty's "picturing" brings magical, imagined adventures and her visit to the circus where she meets Madam Adeline (Nikki Warwick), a truly skilled performance on the suspended ring convincing her that she must be her mother because of her red hair.
There are hilarious show horses, performed by four actors, with plumes and tails; a magnificent elephant created by a gigantic flexible hose for a trunk and large Chinese fans for ears and many circus tricks including the strongman Hercules; the youngsters in the audience loved it.
Hetty's escape to the streets of London during a celebration of the Queen's jubilee is moving and her discovery of finding her real mother makes poignant ending.
Inventively directed by Sally Cookson with live music provided by the amiable Luke Potter and Seamus H Carey, this is a must-see show.
Reviewer: Robin Strapp