Hetty Feather
Adapted by Emma Reeves from Jacqueline Wilson's novel
William Archer and Kenny Wax, Novel Theatre, Rose Theatre Kingston
Quays Theatre, The Lowry, Salford
–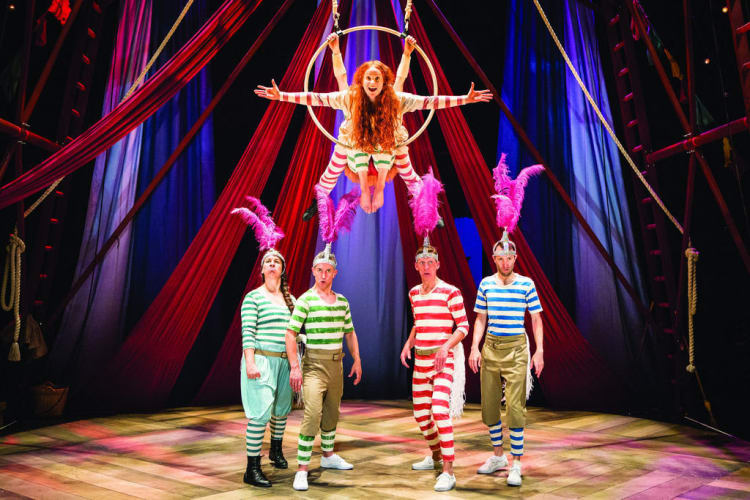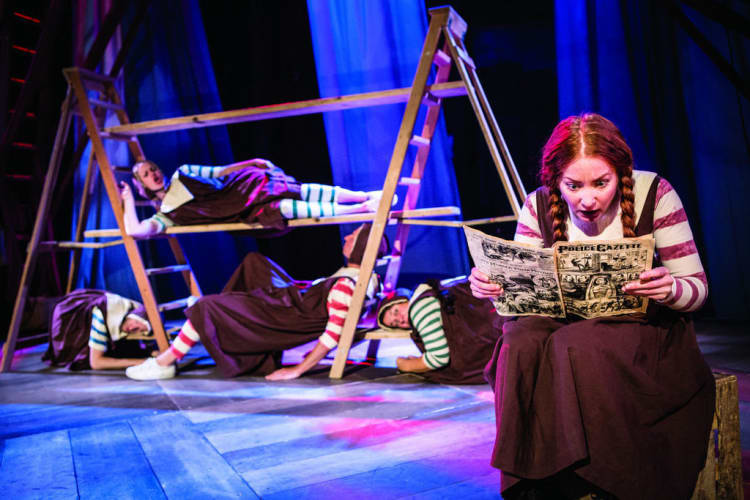 Here's my advice. If you're going to review a show aimed at children and young people, get some expert help.
My nieces reckon it's a great idea to have a musical duo (piano accordion and guitar) playing songs and telling corny jokes as a lead in to the main event.
"Better than just sitting there, waiting for something to happen." Can't argue with that and if you know my nieces, Ruth and Jane, it's probably better not to try.
Jacqueline Wilson's Hetty Feather tells a well-researched and enthralling story of the life of a foundling child in late Victorian England. Reluctantly given up by her loving mother, red-haired Hetty is marked as trouble from day one, by the very matron who gives her this name. Tough years lie ahead for the unfortunate child, and she will need her bloody-mindedness, her bravery and her imagination (her 'picturing') to see her through.
After the most entertaining mobile 'phone warning I've thus far witnessed, our musicians step aside and we're into the show. It's terrific. Music throughout, sharp and clever choreography, a strong, multi-talented cast (often playing across gender), impressive acrobatics (much of this show is an aerial feat) and a story, firmly rooted in history, which provokes sympathy, a sense of injustice, admiration for its indomitable central character, laughter and tears.
Phoebe Thomas as Hetty is captivating throughout and consistently believable as the little girl who wants to know her real name, spends her days 'picturing' and will not be put upon by anybody. Thomas's acrobatic interplay with Nikki Warwick (as Madame Adeline) is a stand-out moment of an evening with many such. Nikki Warwick (who also plays Peg and Ida) revels in the physical and emotional challenges of these varied parts.
Audience members across the age-divide are impressed by the appearance of Eliza the elephant and of Madame Adeline's haughty, naughty horses provoke laughter around the auditorium (especially the last one, who does that thing horses often do in public. You know? The one that's good for growing roses.)
Adaptations from prose almost always suffer from the episodic nature of their source and the fact that novels, unlike drama, tend not to give their protagonist a single, over-arching goal. Hetty wants to escape the Foundling hospital, save her brother, join the circus, find a mum and discover her real name. Each of these storylines is well-executed in Emma Reeves's stage-friendly adaptation. On the rare occasions when the plot does threaten to flag, the verve and creativity of the production pick us up and carry us forward.
Sally Cookson, aware of Hetty's place in a roll-call of feisty girl heroines, is careful to make the best of her able cast. Mark Kane has great fun, camping it up as Sheila (the school bully, leaning knowingly on Catherine Tate's Lauren) and Hetty's rather fey brother, Gideon, whose ambition is to be a servant girl rather than a soldier.
Cookson and aerial director Gwen Hales have concocted a two-hour show that never drags and is brimming with energy and action without ever seeming frantic or over-busy.
Katie Sykes's set, framed around a central ring trapeze, is a masterpiece of clarity, allowing seamless transitions between the many locations of the story and assisting, rather than getting in the way of, the action and narrative. Costumes also speak effectively and unfussily to the multiple roles the cast takes on.
The evening is underpinned by tireless and skilled musicianship by those two blokes who greeted us as we entered: Seamus Carey (piano accordion, corny jokes and much more) and Luke Potter (guitar, corny jokes and much more). Top marks, lads. (They even manage to throw in a local reference or two: Eccles cakes and Manchester tart).
Is it worth stepping out into the December wind and rain to see this show? My two experts say, "Yeah!". And so do I.
Reviewer: Martin Thomasson