Hey Presto!
Nadia Shireen, adapted for the stage by Laura Lindow
New Writing North for Durham Book Festival
Jubilee Hall, West Rainton, Co Durham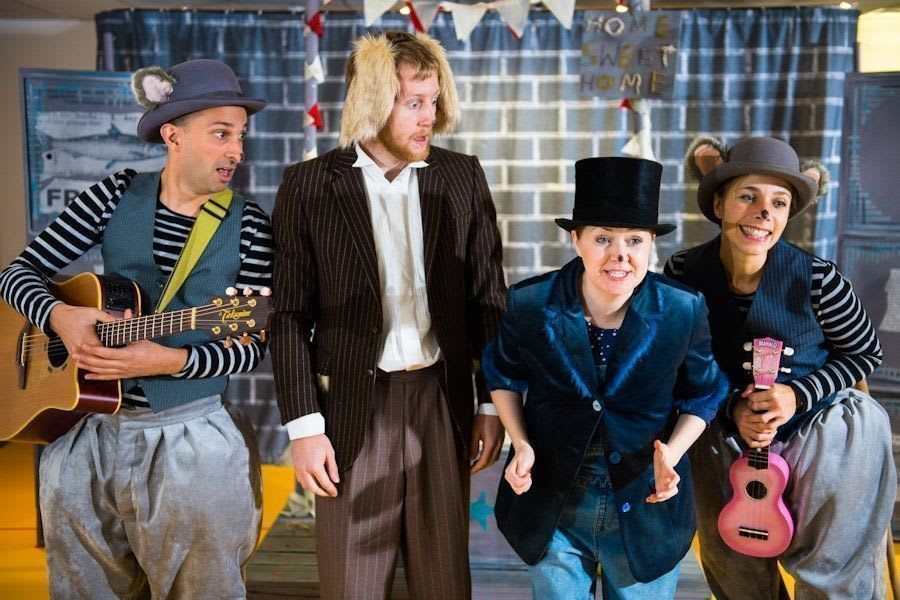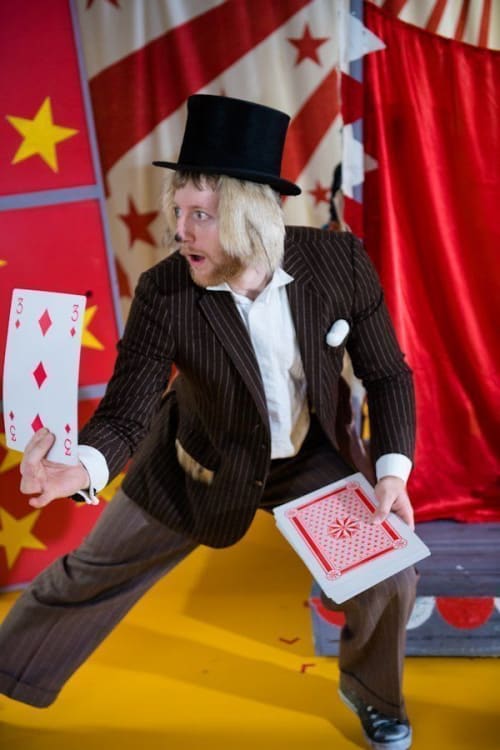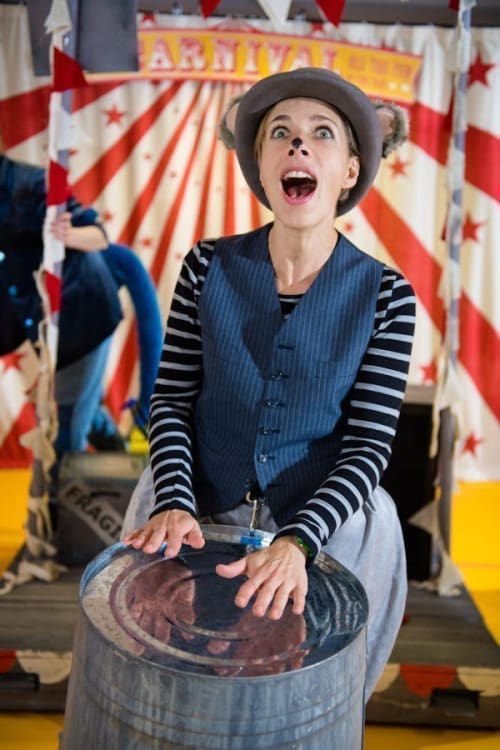 Presto the cat and Monty the dog are best friends. They live in a dirty, smelly (there's poo!) alley. Monty (played by Matthew Gundel) is great at singing, eating ice cream and pulling funny faces, while Presto (Samantha Morris) is a brilliant magician. When the carnival comes to town, Presto and Monty decide to join up with their amazing magic act.
Now Presto is a bit shy so they decide that Monty will front the show while Presto does the magic behind the scenes. It's an amazing success and they are both so happy. But then Trevor off the tele turns up with an offer they can't refuse. Now Monty forgets that he isn't the real magician and success goes to his head. Presto is so upset that he goes away—"Now you see me," he says. "Now you don't."
Can they possibly make up and save their friendship? And if so, how?
And if this sounds like a children's story, that's because it is, aimed at under-7s. It's being toured to 38 venues across the North with a total of 47 performances, plus workshops, and such has been the success of the previous tours in the last three years that many are sold out.
A children's show it may be, but that doesn't make it easy for the company and creative team. Not only are children a difficult audience (no polite silence if they're bored!) but here there's the problem of numerous parts having to be shared between just four actors—and, if they don't do that convincingly, the children will soon let them know!
There are Gundel and Morris whom we've already mentioned as Monty and Presto and then there are Claire Tustin and Ziad Jabero who play two mice (Surely and Vern respectively) and operate and voice two puppets, the rabbits Gwilym and Rhonda (Welsh rabbits. Geddit? The kids almost certainly didn't but the adults would appreciate it!), and Tustin also plays Trevor off the tele.
They all sing and three are accomplished musicians: Tustin playing ukulele and violin (and acting as musical director), Jabero guitar and Gundel a very ad-hoc drum set and trombone.
It's great fun and I and the other adults in the audience thoroughly enjoyed it, but of course it's the kids that count. They were transfixed and there was only one visit to the toilet (many toilet visits = failure) and that little girl was so upset at having to miss part of the show that the teacher who took her had to reassure her that the play would still be on when she got back and she really wouldn't miss much!
It has a good story, of course, but, most important of all, the creative team really know what appeals to children. Laura Lindow's writing is always spot-on and there is nothing of the playing down or patronising in Imogen Cloët's design. All the production values are as high as is possible with a show that has to be fitted up, performed and taken down twice a day in different venues often miles apart.
Director Ruth Johnson, in her third year with the company, really relates to the children and understands them so she gets the pitch exactly right which leads to another New Writing North children's theatre success.
Reviewer: Peter Lathan