Hidden In The Sand
James Phillips
Sally Humphreys Productions Ltd and Arden Entertainment
Trafalgar Studios
–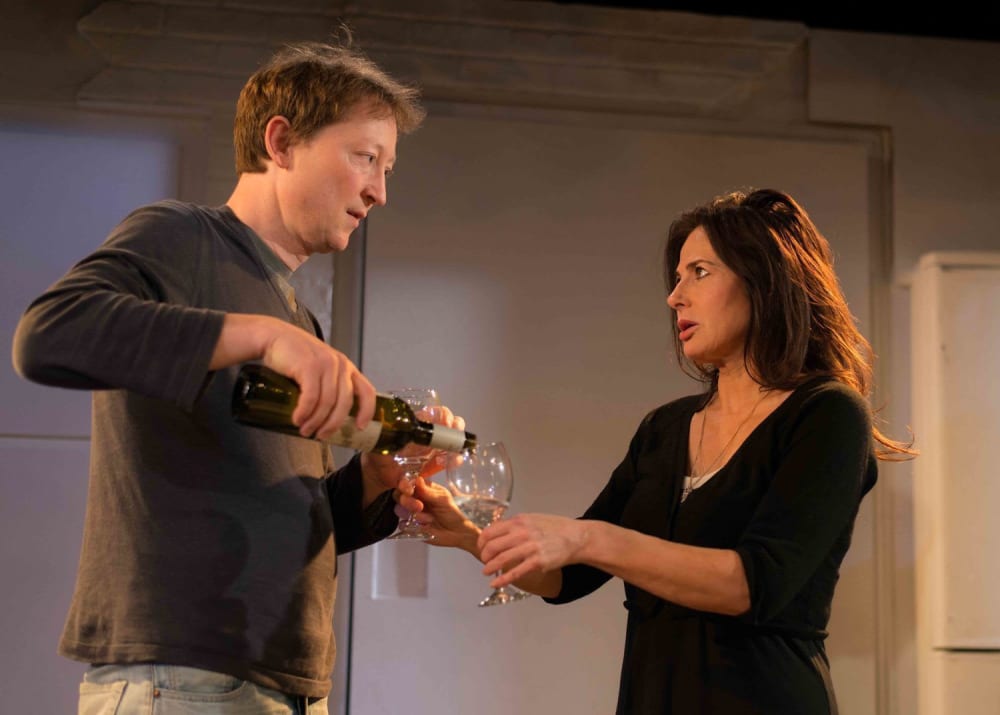 I think we've been waiting for each other. And so I'm going to trust you.
That's all you can do with people. Say this is my heart and if you drop it then it will break.
Cypriot refugee Alexandra Chrysostomou (Sally Dexter) makes a life for herself in London after fleeing the Turkish invasion of Cyprus in 1974. Existing on the memories of her former life in Famagusta and the desperate hope of return, she meets Jonathan Hunt (Scott Handy), a British classical scholar who falls deeply in love with her.
This relationship is the catalyst that forces Alexandra to confront the ghosts of her past, and she consequently embarks on a personal journey of love, loss, memory and redemption.
Dexter and Hunt depict the burgeoning romance between Alexandra and Jonathan with sensitivity, humour and flair. The fiery, headstrong and passionate nature of Alexandra is perfectly counterpointed against the awkward, self-consciousness of Jonathan, and their tentative flirtation with each other comprises most of the first act.
However, the ghosts of Alexandra's past continue to haunt her present, and painful memories prevent her from moving on with her life in London. When meditating on the soldiers that are still unaccounted for, Alexandra is adamant that "to give up hope is to betray".
It is the second act where the narrative really develops, and James Phillips's intelligent script slowly unravels to reveal layers of deception, delusion and emotional turmoil. An excellent cameo performance from Alexandra's estranged sister Eleni (Yolanda Vazquez) adds complicated family dynamics to the mix, and exposes the different coping mechanisms used to overcome trauma. The scenes between these two sisters are beautifully written and performed with an outstanding level of emotional intensity.
A sub-plot develops with Alexandra's niece Sophia (Daphne Alexander). Sophia is a self-defined 'Charlie'—second generation Greek Cypriot—who is a photojournalist working in Kosovo. Through her travels and photographic endeavours, she observes the horrific consequences of war and displacement, questions the ethics of war photography and prompts some startling revelations about her family history.
Last year, Phillips was commissioned to make a book of photographs of Nicosia, the capital of Cyprus, and Sophia is a neatly written device to present this documentary work. Phillips's projected photographs are both evocative and powerful, and could have been given a bigger role in the design of the whole production. The concept of crystallising the past is central to the wider plot, and the relationship between photography and memory had the potential to be explored further.
The invasion, division and occupation of Cyprus is unquestionably a weighty subject matter, but Phillips focuses his directorial lens on the emotional politics of relationships. Illuminating facts about the historical conflict between Turkey and Cyprus are woven into the script, but the play ultimately presents an intimate snapshot of the personal effect of war on individuals, asking whether enduring love can overcome the grief of the past.
Reviewer: Rhiannon Kelly