Hi-Di-Hi
Jimmy Perry & David Croft, adapted by Paul Carpenter & Ian Gower
Bruce James Productions
Darlington Civic Theatre and touring
(2010)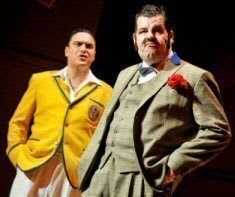 Hi-de-Hi, the BAFTA award-winning television sitcom which ran for nine series' during the 1980s, returns to the stage for the first time since its West End run in 1984. Boasting two of the original cast members from the programme - Barry Howard and Nikki Kelly - it had the potential to be a `camp' evening of nostalgia. However, this new production which has been adapted by Paul Carpenter and Ian Gower, is a disjointed affair that fails to gather any real sense of momentum.
The cast, which includes Are You Smarter Than Your Ten Year Old? presenter Damian Williams as Ted Bovis and ex-Emmerdale actor Peter Amory, seem more concerned with attempting to impersonate the original characters than instilling any conviction into their performances and this soon became rather irritating, especially in the cases of Rebecca Bainbridge (Gladys Pugh) and Damian Williams. Barry Howard, reprising his role as Barry Stuart-Hargreaves, was seriously under-utilised and spent most of the performance looking as though he was wishing he was somewhere - indeed, anywhere! - else. Nikki Kelly, who played Sylvia Garnsey in the television series, stepped into the late, great Diane Holland's dancing shoes to portray the snobby Yvonne Stuart-Hargreaves but failed to convince.
Not even the frequent bursts of the theme tune that were played to facilitate scene changes could inject any authenticity into the show and I could not understand what possessed Bruce James, the producer, to attempt to transform the show into a musical by throwing random revue numbers in at the most inopportune moments. It also seems that the function of the adaptors, Carpenter and Gower, was nothing more than to extract the comedy from Jimmy Perry and David Croft's original scripts.
It is also telling that Bernie Nolan - who was contracted to play Peggy Ollerenshaw - withdrew from the production before it took to the stage, and her replacement, How Do You Solve A Problem Like Maria? contestant Abigail Finley, was `indisposed' on press night leaving an under-rehearsed Carrie Laurence to flounder her way through performing one of the most pivotal and popular characters. Su Pollard would, for once, have been dumbstruck!
This production fails to recreate the magic of Maplins and has more in common with a typical British summer - dull and wet with hardly any brighter patches trying to break through. Dismal.
Reviewer: Steve Burbridge