High Heel Parrotfish
Christopher Rodriguez
Talawa/Theatre Royal/Nitro
Theatre Royal, Stratford East
(2005)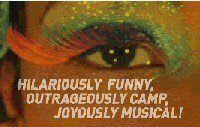 When it comes to a good night out, the Theatre Royal Stratford East must be the best value for money in town. I always expect high standards there and I've yet to be disappointed. The lastest joint venture with Talawa is no exception. Originally staged in Trinidad in 1996, High Hell Parrotfish was written for a group of drag queens attempting to stage an undercover cabaret. Even during the run-up to Carnvial, the legality of cross-dressing is dubious in Trinidad, and at least can be regarded as gross indecency. On a serious note, the play is concerned with the lives of those forced to lead a double life in fear of exposure, rejection, vigilante beatings, police harassment and even death. On a high note, it is two and a half hours of dazzling performances and even more dazzling frocks.
A first-class cast easily elicit our sympathy for the personalities behind the feathers and sequins. Backstage in the shabby dressing room at Mrs Miller's seedy bar the disparity between the glamour and the shabbiness of reality is evident. As we learn of their individual circumstances, strengths and weaknesses, frustrated longings and small, hard-won triumphs, it is hard not to laugh and cry with those who live in fear in the margins and yet invest their artistry with such passion. There is a good dose of hearty humour to help the action along.
Suzy (Brian Green), the MC, acts as our intermediary, and has a few problems of her own in the ample and curvaceous shape of ex-wife Leandra. Green's fine, opera-trained voice was a highlight when it was finally unleashed late in the evening and it is a pity he wasn't given more. Nonetheless, there were enough glittering turns in the spotlight to amuse and delight us. And between the acts there is a high-octane blend of bitchery and camaraderie between the girls backstage.
It is difficult to single out performers in this relentlessly excellent cast. Peter Straker has a career dating back to the original production of Hair and as Lorenzo the Wolf in Red Riding Hood (Theatre Royal, 2003) he was the 'slickest, meanest and most brazenly wicked bad guy in town'. Here he is able once again to show his versatility as Kitty Caress, the aging drag queen who backstage by turns cajoles and mothers and in the spotlight struts her sparkling stuff. Raj Chatak's Vashti is a charming character, moderate and loyal, defying his family and culture courageously, the type of drag queen any girl would like as a friend. He gives us an effortlessly comic dance routine. Sandra Bee as Leandra makes up for her character's absence throughout most of the play by carrying us away in her whirlwind of comic rage and sultry sexuality. The very talented Ashley Campbell gives a fine physical performance as the up-and-coming young drag queen Betty Boo. Watch out girls! Betty the would-be beauty queen is stunning, sexy, spiteful and even a little sad.
Nicholai Le Barrie plays the outsider Lucas, accused of armed robbery and hiding out among the drag queens from the law as Lucy Child. It would be too easy to see Lucas/Lucy as a device employed to help the plot along. Lucas is not a natural on the drag circuit and he doesn't really want to perform. However, he has worked hard for weeks to get his act ready for the big night and is furious when Kitty changes plans at the last moment and his turn as Lucy is dropped. This is the thread running through the action, but long before the end I found myself as frustrated as the character and wanting, waiting to see that performance he'd worked so hard for. I was so engaged with Lucas the confused teenager waving a gun that I was willing him to triumph as Lucy.
In terms of personal preferences Juana La Venezolana, the latin firecracker (Anthony Ofoegbu), was my favourite comic camp queen. Remorselessly histrionic, hands flapping, like Nosferatu in a tango frock, I laughed and chuckled and wriggled with enjoyment at her parodic salsa routines.
Reviewer: Jackie Fletcher