Highland Fling
Directed and choreographed by Matthew Bourne
Based on the ballet La Sylphide
New Adventures Theatre Royal, Newcastle, and touring
(2005)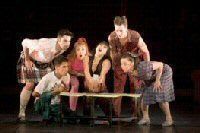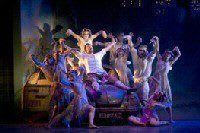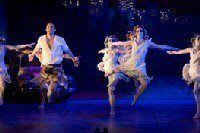 Wit, subversion and tragedy - what more can one ask of a piece of theatre? Highland Fling, Matthew Bourne's reworking of one of the earliest ballets in the classical repertoire (it was first performed in 1832), La Sylphide, has all three in huge measure. He originally created it in 1994, two years after Nutcracker! and a year before his all-male Swan Lake. Now he has reworked it, with a larger cast and designs by Lez Brotherston, and it is as fresh eleven years later as it was then.
He sticks very closely to the original story which tells the story of a Scottish crofter, James. On his wedding day to his childhood sweetheart, Effie, he is lured to his doom by an unearthly siren. She is a winged sprite and is literally unattainable - a love that can never be fulfilled. Bourne updates it. James is an unemployed Glasgwegian and we first see him in the toilets of the Highland Fling Social Club, drunk and high - the drugs connection led the piece to be labelled Trainspotting - the Ballet when it was first produced. We see the life of James and his friends in all its squalor - sex, drugs and rock 'n' roll - and then the sprite, the Sylphide, appears, clearly attracted to him. But she isn't the romantic figure of the traditional ballet: she is certainly ethereal but not in a pure, fairy-like way. In fact, she is rather reminiscent of Puck - there is a definite feeling of "Lord, what fools these mortals be" about her.
But he falls for her, abandoning his bride Effie on their wedding day, and dives out of his high-rise window to follow her.
The second act finds him in a very modern forest glade, complete with abandoned car and dumped furniture. Here we find the Sylphides - the whole company, male and female, apart from James - but they are very earthy sprites, much more the scary creatures of folklore than the pretty-pretty Cottingley fairy photographs. In the original, as described by Margot Fonteyn, "in trying to possess (the Sylphide) he destroys both the vision and himself" but Bourne makes it much more physical: James cuts off her wings and the final scene is, quite literally, blood-covered.
The ending is shocking, doubly so because of the genuine humour which preceded it. It gives a physical form to the Romantic (note the capitalisation) ending: Bourne gives us the reality. It is Chatterton convulsing and dying in agony, not the idealised Chatteron of Henry Wallis' famous painting in the Tate.
As well as being a witty, intelligent and powerful reworking of the original ballet, this production is also tremendously entertaining. This is a very talented and exciting young company. They swap the roles around - tonight we saw Will Kemp as James and Kerry Biggin as the Sylphide - but it was clear from their performances that every one of them is very versatile. Highly recommended, especially for those who have not seen ballet before or who, like me, have never quite got away with classical ballet!
"Highland Fling" plays at Newcastle until Saturday 9th April and then tours to Plymouth Theatre Royal (12 – 16 April), Brighton Theatre Royal (19 – 23), Edinburgh Festival Theatre (26 – 30), Glasgow Theatre Royal (3 – 7 May) and Norwich Theatre Royal (10 –14 May).
Reviewer: Peter Lathan