High Society
Music & lyrics by Cole Porter, Book by Arthur Kopit
Sunderland Empire and touring
(2005)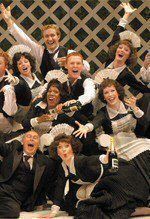 This production of High Society has an odd genesis. Originally, of course, it was The Philadelphia Story, a 1939 comedy by Philip Barry (soon to be revived at the Old Vic with Kevin Spacey as Dexter Haven and Jennifer Ehle as Tracy Lord), which MGM made into a musical in 1956 (Grace Kelly's last before becoming Princess Grace). Richard Eyre produced a stage version in 1987 with Natasha Richardson and Stephen Rea, and this version, with a new book by Arthur Kopit, premiered in San Francisco in 1997, then moved to Broadway, with this particular production beginning life at the Churchill, Bromley, in September 2004.
Kopit imports a number of Porter's songs which were not in the original MGM musical and gives it a slightly more contemporary feel by using the servants as a kind of chorus, commenting on the action and being rather less self-effacing than they would have been, possibly in 1956 but certainly in 1939.
The show is stuffed with some of Porter's best songs - too much so, to some extent, for few of them get much of a showing, and so the cleverness of his lyrics doesn't have much of a chance to shine. And they are clever and witty, with strong sexual overtones bubbling away beneath the surface. The songs, indeed, are the best part of the show, for the story is, it has to be said, dated: the society, its values and attitudes (even its sexual innuendo) seem strangely innocent today.
High society was Porter's milieu - his parties were famed - and, like Coward (who, although he was not born into high society certainly moved in it), he pokes fun at it, but it's the gentle fun of the insider who fully accepts it and its values. The outsider is George Kittredge, whom heroine Tracy Lord is to marry. He is humourless, moralistic, boring - and working class.
But what of this production? The cast is strong - Liza Goddard headlines as Mother Lord, although she is a support character rather than the lead; Graham Bickley as Dexter Haven; Lara Pulver as Dinah; Bryan Torfeh as Kittredge; Paul Robinson as Mike Connor and Ria Jones as Liz Imbrie: we had two understudies in Cara Elston as Tracy Lord and Tony Stansfield as Uncle Willie. The set is functional, bright but simple, with lighting that complements it well. The choreography is attractive if unexciting. All in all, a combination of factors which lead to an enjoyable production but without that extra spark which makes us forget just how dated the show actually is.
David Chadderton reviewed this production at the Palace Theatre, Manchester.
"High Society" tours to Bournemouth, Liverpool, Nottingham, Belfast, Edinburgh, Canterbury, Cardiff, Leicester and Newcastle.
Reviewer: Peter Lathan