High Society
Music and lyrics by Cole Porter (additional lyrics by Susan Birkenhead), book by Arthur Kopit
New Victoria Theatre, Woking, and touring
(2007)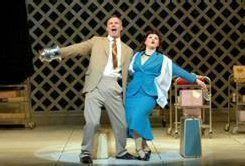 High Society is on the road again, and playing to packed houses wherever it goes. This production (directed by Ian Talbot) began life at Regent's Park Open Air Theatre in 2003, had a stint at the Shaftesbury Theatre with Jerry Hall as Mother Lord, and is now on a second national tour seeming as fresh and newly minted as the first showing.
The show is based on Philip Barry's original stage play The Philadelphia Story, but it is much more famous for the 1956 movie starring Grace Kelly, Frank Sinatra, Bing Crosby and Celeste Holm, with Louis Armstrong supplying the music. Interestingly the blackmail which here allows two reporters to cover the proposed society wedding was mirrored in Kelly's life when she had to allow MGM to film her wedding to Prince Rainier as the price for breaking her contract.
If you want the low down on high society, just ask precocious little sister Dinah (Brenda Moore) who knows everything that is going on – and mostly things she shouldn't know. Father has been having an affair with an exotic dancer. Uncle Willy is forever chasing the girls, ex-husband Dexter is a recovered alcoholic, and husband-to-be is boring, ambitious, working-class George (Daniel Crowder) who "dug his way up from the bottom and found gold at the top". Our heroine, Tracy Lord (Isla Carter), is filthy rich, spoilt and insensitive to the frailty of others – but about to be toppled from her pedestal with the help of a little (or a great deal of) champagne.
Hall had to leave the Shaftesbury production due to illness and her part as Mother Lord was taken by Aly McInnes who reprises the role here without Hall's tall elegance but with a splendid singing voice – every word of Cole's lyrics as clear as a bell.
Porter knew a thing or two about high society himself, coming from a rich and privileged family and his songs hit just the right note for each character, with a beautiful, wistful, romantic rendition of "True Love" sung by Tracy and Dexter (a relaxed, rich voiced Mike Sterling) as they survey their honeymoon boat across the bay. "Who wants to be a Millionaire?" is by the trying-not-to-be-envious reporters, and "You're Sensational" is an impressive Sinatra-like interpretation by Paul Robinson as reporter Mike Connor and what a great dancer too - his third time in this role. When you've got the right guy stick to him – which is what Tracy should have done with Dexter.
Some of the songs have been borrowed from other shows and some lyrics have been changed, but it's all great Porter music splendidly played by a six piece band under the direction of Stephen Ridley.
Star billing is given to Wayne Sleep as the inebriated Uncle Willy. Although I am a long time admirer of Sleep I couldn't find his performance convincing – until it came to the dance sequences when he really showed his superb ability – and even manages splits. Perhaps that's why the idea of his ageing body letting him down while desperately trying to woo reporter Liz (Sophie-Louise Dann) "Getting Myself Ready for You" did not quite ring true, although still very funny.
However good the leads, it is the servants who bring life and energy to the show, spiritedly performing to the excellent choreography of Gillian Gregory in such a manner that I often found myself watching them instead of the stars – and no need for extra scene shifters as they achieve this as part and parcel of the action without breaking the rhythm of the show.
Guaranteed to put a smile on your face and send you out singing. Great show!
Touring to Northampton and Cardiff.
Reviewer: Sheila Connor