The Hired Man
Book by Melvyn Bragg; music & lyrics by Howard Goodall
Octagon Theatre, Bolton
(2010)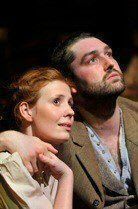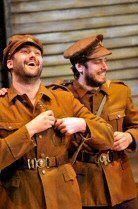 The Octagon's artistic director David Thacker has worked closely with writer Melvyn Bragg and composer Howard Goodall on this reworked version of their 1984 musical set in Cumbria at the turn of the twentieth century based on Bragg's novel.
John Tallentire manages to get hired in the labour marketplace in a small rural community and becomes the best farm labourer the area has seen at the expense of neglecting his vivacious young wife Emily. She attracts the attention of Jackson Pennington whose affection for her seems to be returned if not acted upon. The mines, despite being dangerous and dirty, are attractive because of the higher pay they offer compared to farm work, and John eventually succumbs.
Many years after the scandal between Emily and Jackson caused Emily and John to move out of the village, their daughter May is interested in boys but their son Harry, despite his mother's protests, wants to prove his manhood by following his father firstly into the mines and then, with the advent of World War I, into the trenches in France.
The epic sweep of the novel through many years of the characters' lives is necessarily condensed for the musical with all of the problems that novel adaptation often brings. The story is told in short episodes with long gaps of time between them, and so, by the time the audience has worked out what has happened in the intervening period, there is little time left to get to know and empathise with the characters. Many of the characters are reduced to types simply to distinguish them from one another in a short amount of stage time, so John's brother Isaac is the work-shy, fun-loving one whereas other brother Seth is the committed trade union organiser. We never get to see any real confrontations, despite accusations of adultery (in mind, at least) and union agitation of the mineworkers; everything is always dealt with in a fairly polite and friendly manner.
Goodall's atmospheric music has an orchestral sweep with obvious influences of folk music, although the arrangements seem a little thin at times in this reduced instrumentation. His lyrics are a little simplistic in places.
The actors deal with the episodic structure as well as they can. Amy Nuttall seems rather unfocussed as Emily a lot of the time, although she certainly gets to grips with the character more in act two when she does a good job of showing how she ages and her health deteriorates. Kieran Hill as John doesn't noticeably age much, but he gives a very strong performance once again, despite some vocal problems, and holds the piece together with his central character. As John's brothers, David Ricardo-Pierce gets all the joy for life out of the character of Isaac while Tobias Beer is passionate behind his cause as Seth, and both make them as believable as they could be.
There are some nice performances from Barbara Hockaday as May, Chris Milford as Harry, John Cusworth as Jackson, Clara Darcy as Sally and Johnson Willis as Pennington, all of whom play several other roles as well and some also play instruments. The large professional cast is supplemented by an amateur (the theatre has adopted the American euphemism for amateur of "community") chorus, which adds considerably to the impact of many scenes both visually and aurally.
Dawn Allsopp's versatile and visually pleasing design utilises all of the levels of the theatre with a backdrop of weathered wooden slats. Andy Smith's sound design gets a clear vocal and instrument sound and a decent balance except for a loud and occasionally raucous trumpet, but in such a small venue it is still odd for the actors' voices to suddenly become twice as loud and start coming from several feet above their heads every time a song starts.
Although there are some lighter moments, this certainly isn't a happy tale and the episodic nature makes it difficult to really get involved with the lives of these characters and feel for them, although some of the later experiences of the Tallentire family may start to raise a tear. Thacker's joyful, energetic production does carry you along with the story, however imperfect its construction, to make this impressive production a theatrical event worth experiencing.
Running to 3 July
Reviewer: David Chadderton