The History Boys
Alan Bennett
National Theatre production
Newcastle Theatre Royal and Touring
(2007)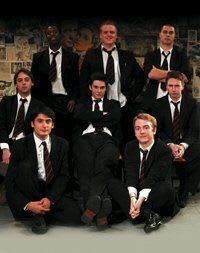 Lovers of Alan Bennett are in for a treat (and possibly a few shocks) with his most recent play The History Boys which opened to a full house at the Theatre Royal, Newcastle. The History Boys, directed by Nicholas Hytner, transports audiences back to 1980's Sheffield and follows a class of History students at Cutler's Grammar School as they prepare for the Oxbridge Entry Examinations guided by two teachers with varying styles - with dramatic consequences.
Greeting the audience on arrival is a plastic, orange chair accompanied by an upright piano crowned with a motorcycle crash helmet. As the curtain rises, this essential piano is soon embraced by a truly remarkable set, designed by Bob Crowley, comprising four low flats that slide seamlessly from classroom to staffroom, to headmaster's room to school corridors. These flawless scene changes are joined by projected film sequences and thrashing soundtracks including Madness and Duran Duran.
Desmond Barrit plays unpredictable teacher Hector, a 'careless' man who detests examinations and learning for learning's sake and has an interest in his pupils deemed highly unprofessional. Barrit is completely unperturbed by such a complex character and leads this play to the very heights that Bennett could only have dreamed of. Playing opposite is Tim Delap as the contrasting 'careful' Irwin, the new teacher who wants to take short cuts and encourages the pupils to do whatever it takes to be accepted by the prestigious university.
The eight school pupils are masterly written and are immediately individual with their with their various sizes and differing voices constantly chirping cheeky remarks in the delightful way only school pupils can. Daniel Fine shines as the lovesick, Barbara Streisand-loving Posner, with the voice of an angel as he sings various songs throughout, most memorably Bewitched, Bothered and Bewildered as he serenades fellow pupil, and apple of his eye, Daken, played by the handsome Andrew Hawley.
The marvellous Elizabeth Bell plays the all-seeing Mrs Lintott who monitors this boyish tale and has a vast presence that and a wisdom so great that she is almost hypnotic.
Just as is the case with school life, The History Boys is teaming with sexual confusion and triumph, heartfelt discoveries and teacher/pupil bonds that can be sealed forever. This is an incredibly memorable piece of theatre that will stun audiences (Bennett lovers or not) and leaves us more inquisitive than ever about this wonderful writer's life and can't help but make us indulge in memories of our own schooldays.
Reviewer: V Mitchell