The History Boys
Alan Bennett
Theatre Royal Bath and the West Yorkshire Playhouse
King's Theatre, Edinburgh, and touring
(2010)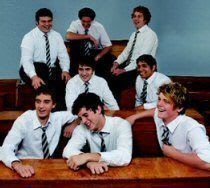 "Pass it on." Bennett's final line from his hugely successful play has certainly proved true in its continued success through many different casts. This is yet another revival as the show continues to be passed on, from cast to cast and from cast to appreciative full-houses.
It is over five years since my first experience of the play at its first run at the National Theatre, but aside from the simpler toruing set there wasn't a great deal different about this production. Not that that's a criticism either, as the original was perfection in a play to me at the time, so sticking with the formula is probably not a bad idea.
Even the actor's performances seemed very close to the original, in appearance and also in the voices. Hector (Gerard Murphy) is an exception, not as camp as Richard Griffiths' version, more down-to-earth. A great orator too, but Murphy is a somewhat more believable as a teacher from a northern grammar school.
The boys are a strong group, Rudge (Peter McGovern) struck me as a more forceful presence than before and I was less in love with Dakin (Kyle Redmond-Jones) than the first time, although it wasn't a bad performance. The same balance between school boy energy, scholarly knowledge and well-observed film parody was there.
It is difficult not to be continually comparing as the play had quite an impact on me before, so the memories are easy to return to, but this is a great production in its own right and anyone who hasn't seen the play yet should definitely try and catch it in its present incarnation. In comparing the two productions what is really illuminated is the changes in me.
Openly homosexual characters seems less astonishing when you're sat with your boyfriend than your parents. I still cringed a little though as James Byng was quite a vulnerable and believably 17 year-old Posner. Also seeing the film had kind of whitewashed the darker elements of the play from my mind.
The monastery scene was superb, disturbing and a moment where Bennett moves away from nostalgia and wit and draws the knives out. Byng and Ben Lambert as Irwin created a darker more contemporary scene that stands out from the rest of the play, complemented by Mrs Lintott's (Penelope Beaumont) speech at the end of the play.
The play is clever and it certainly hasn't been dumbed down at all in this production, but while my younger self was more in awe of Bennett's wit, now I understand the accusations that have been levelled at it of snobbishness. However unlike my boyfriend I don't think it is an ode to Oxbridge, especially as unlike the film, through Posner it shows that getting into the university isn't going to solve life's problems.
Ray Brown reviewed this production at the West Yorkshire Playhouse.
Reviewer: Seth Ewin