Hitler Alone
Written and performed by Paul Webster
Bolton Octagon
(2009)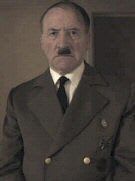 The prospect of an hour or so in the company of perhaps the most reviled man in history did not appear at first to offer much of merit to this reviewer. However Paul Webster's tour de force performance of his fascinating one man play rewards in unexpected ways.
The set in the studio space at the Octagon is sparse. It comprises a chair and table in front of a large suspended swastika. The lighting is minimal. Hitler arrives onstage in a rage at his Generals and we quickly see that his world inside the bunker in Berlin in 1945 is clearly shrinking. The alternating anger and self-justification are variously terrifying and almost pitiable. Almost but not quite. And that is the strength of both the writing and the acting of this piece. Both are exceptionally well controlled. We are interested in this man and what he has to say about what he believes and what he did. But we are not asked to care for him personally. This is just as well as the racism and xenophobia he spouts are difficult to stomach even for an hour and even with the sly humour.
Paul Webster gives us an insight into the highs and lows of the career of this one time Viennese painter. Perhaps offering an understanding of at least some of the anger but there still remain great unbridgeable gulfs as to why he has ended up as alone as he clearly is.
The gesturing and the postures that the actor adopts all have the whiff of accuracy about them. This Hitler admits to a fondness for Gary Cooper films. He wants a kind of united Europe but we understand all too well what is implied by his wish for Lebensraum. He even muses on the place of women and speculates what would have happened had Edward VIII not abdicated to marry Mrs Simpson.
This reviewer was glad to be rid of the tyrant at the end of the production. However there was a pertinent lesson in this penetrating and uncomfortable drama about what happens when a despot harnesses the anger in a population failed by the economic and political class of their time. Paul Webster is set to play Pinter's tramp Davies in a new production of The Caretaker at the Octagon in Bolton from 5th March.
Graeme Strachan reviewed this production at the 2008 Edinburgh Fringe
Reviewer: Andrew Edwards