HIV Monologues
Patrick Cash
Dragonflies Theatre
Ace Hotel
–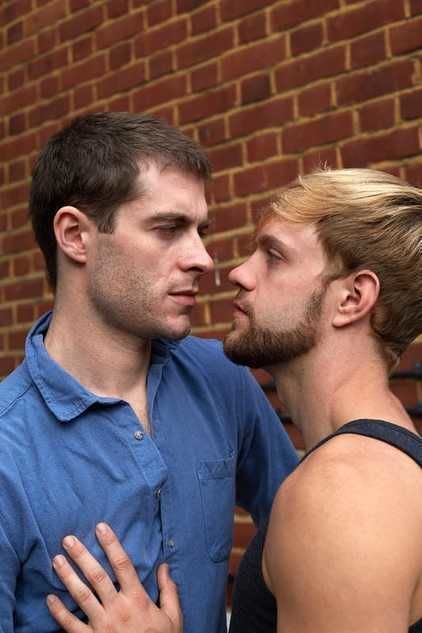 The devastating impact of HIV has been explored a number of times before on stage.
Jonathan Larson's Rent skirts round the issue and how it dominated a community living in the East Village of Manhattan during the 1980s. Then there was Angels in America, which is currently in rehearsals, ahead of a revival at the National later this year starring the awesomely beautiful Russell Tovey.
But none has taken this toxic subject by the short and curlies and really got under its skin in the way Patrick Cash has done here in HIV Monologues. Braver still is its title, a blatant refusal to shy away from the theme which lies within.
This is a play that really does what it says on the tin. It's a series of interconnected monologues by 5 people who are all deeply affected by HIV in their own and very different ways. It also interconnects the decades, which helps bring to light the juxtaposition between how far we've come and how little we've achieved in the fight against this horrid disease.
My criticism here, however, is that the narrative at times is confusing and it's not always completely clear where we are. Going from tender moments of despair and dying (set in the '80s) to setting up a shag on Tinder (presumably 2016) with little guidance for the audience is both clumsy and distracting.
In truly modern fashion, a young and sexy Alex (Denholm Spurr) meets who will eventually become the love of his life on a dating app. That's nothing new, but there's a twist which throws up all sorts of dilemmas for him, and this makes for an altogether moving and yet witty opening scene.
That's the basis for the entire play—it has both moments of shocking grief and heartache which are intelligently and quickly set against a series of humorous twists and turns. The change in tone helps lift the mood and inject some much needed light into what could have been a depressingly dark and lifeless play. For such a morbid subject, Cash's writing and approach is full of energy with a defying sense of hope.
A new drug called PrEP is being hailed as a massive game changer in the fight against HIV, and its use in the play makes it feel relevant, modern and to a degree controversial. We see Alex popping the pill before embarking on a rough bit of unprotected nookie in the loos with his lover.
This raunchy 'skin on skin' sex session and their sheer disregard for safe sex might leave you feeling uncomfortable or even angry. That's how I felt. After the show I attended a Q&A with Patrick Cash and some experts from the worlds of drama and HIV health care. There, I was reliably informed this wasn't irresponsible when I quizzed them, but then again the answer came from the man who told us in the press a few months ago that there's been a 40% drop in HIV infection rates and that it was (in part) down to the increased use of PrEP, so I suppose he would say that. I'll let you decide for yourself.
Don't let this put you off. HIV Monologues is an intentionally provocative play sure to ignite debate and some controversy I'd expect. But that's never a bad thing, particularly if it helps raise awareness of a subject that is still blighting a community despite any recent blips or reported drops in infections rates.
Reviewer: Thomas Magill