The Hobbit
JRR Tolkien, adapted by Glyn Robbins
Palace Theatre, Manchester, and touring
(2010)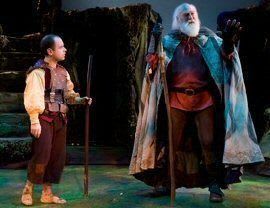 Tolkien's forerunner to his epic The Lord of the Rings trilogy was originally published as a children's book, and so its much simpler single storyline—as opposed to the complex multiple plots of the later works—has a great deal of potential as a piece of family theatre.
The story begins as great wizard Gandalf tricks Bilbo Baggins, a hobbit, into helping Thorin Oakenshield and his band of dwarfs to regain his kingdom of the Lost Mountain and his treasure from the dragon Smaug. The journey takes them through the elves' land of Rivendell and through the land of the goblins where they are captured and have to be rescued by Gandalf. Bilbo plays a deadly game of riddles with Gollum and finds a magic ring that can make him invisible. After escaping from imprisonment by the wood elves, Bilbo steals back some of Smaug's treasure hoard and the Lake-men kill Smaug, but Thorin's refusal to compensate those who helped him return to his kingdom threatens to provoke an all-out war.
The adaptation stays pretty faithful to the original book, which is part of its problem as it is long, skips through some bits of plot that could do with more explanation and dwells a little too long on some less important scenes and expositional dialogue. Other than that, the adaptation by Glyn Robbins is competent if not wildly imaginative.
There is a very nice visual dimension to the production. David Shields's set design combines natural elements of stone and vegetation with medieval-style, man-made (hobbit-made, elf-made, dwarf-made etc) structures to good effect, although the two rotating structures in the centre, as effective as they are, do become over-familiar after a while as they are used for more and more different locations. The set is complemented perfectly by Abigail Hammond's costume designs and some atmospheric lighting from John Harris, with further atmosphere added by the synth music, reminiscent of 80s synth composers such as Vangelis, from composer Mark Bloxsidge. The dragon, designed by Nik Huddy, looks superb, with little twitches of the enormous tail when it is asleep that look incredibly lifelike, although it would be nice if the mouth movements had some relationship to the voice.
While all the elements are there for a decent family show, it is let down by poor attention to detail, for which director Roy Marsden and producer Vanessa Ford must take responsibility. The show opens with a big battle done as a series of freeze-frames, which is a nice idea but is rather sloppily carried out. There are some spectacular fights from well-known fight director Renny Krupinski but sometimes everyone just stops as though they don't know what to do next or the fight simply peters out unconvincingly. There are times when the music drowns out the dialogue, a surprising amount of which is muffled through being projected upstage. The spider looks stunning when the curtain opens on it after the interval, but then the fight with it is rather feeble. Even the programmes have a bit of a home-DTPed look to them. Someone needs to get hold of the production and shake it up as there is a decent family show here struggling to get out.
There were some unannounced cast changes on press night, with Christopher Llewellyn stepping out of Gollum's shoes to competently replace Peter Howe as Bilbo, which actually worked well with a Welsh accent, and Russell Clough stepped out of the chorus of dwarfs to create a very physical and agile Gollum. Back on the published schedule, Christopher Robbie looks perfect as Gandalf, Andrew Coppin is superb as Thorin and there is decent support from the rest of this all-male company of thirteen performers (or twelve on this occasion). There is some nice a capella singing and some stirring, manly dance routines from the company as well.
This is certainly worth a look for Middle Earth fans and has plenty to appeal to families, although the recommended lower age limit of eight years (which some parents chose to ignore, hence the loud crying and frequent toilet visits from certain areas of the theatre) should be noted as a minimum due the late finish (around ten past ten), scary monsters and some violent battles, including a beheading. Overall it just about works, but a week or two with a ruthless director, and perhaps a more intimate venue than the Palace, could make this into a considerably better show.
Running to 30 May 2010
Steve Burbridge reviewed this production in Darlington
Reviewer: David Chadderton