Holding Hands at Paschendale
Martin Lynch
Cerberus in association with the White Bear Theatre
White Bear Theatre
(2011)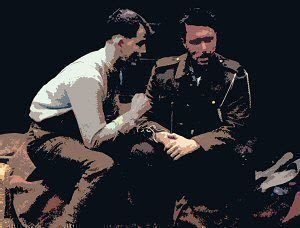 This two-hander by Irish playwright Martin Lynch draws on an incident that involved his own grandfather in 1917 during the First World War when a young Irish soldier is put in charge of a cockney lad who is awaiting court-martial for refusing to fight.
The arrival of the presiding officer is delayed and the two men spend four days handcuffed to each other. Designer Mike Lees places the action among hay bales in a farm building with slatted walls through which, in daytime, an iconic landscape of silhouetted shell-ravaged tree-stumps can be seen. It is dark when the play begins but the guns are already pounding as a voice gabbles in a nightmare, a dream quite different from the one set in North Woolwich he describes when wakened.
Holding Hands at Paschendale is a long way from the war play that extols conventional bravery and comradeship. Cockney Maurice (Mo) Coutts has cracked up just as he was being ordered to go over the top. Gunner Willie Harvey, from Greencastle in Belfast, was told to stop him running and now Mo is his prisoner. While the English lad switches between displays of cheery cockney humour and panic plans for escape, Willie at first attempts a stoic non-involvement, doing his duty and following orders, but gradually the relationship changes as they reveal themselves to each other and truth replaces fiction.
They are isolated from their fellows, food and messages arrive but we never see who brings them and, though we witness one awkward act of defecation, this is not a minute by minute experience, lights fade and the popular songs of the time mark time passing between scenes join the cannonade on Philippa Herricks' soundscore.
This is a play that is centred on the personal but it builds to a clear indictment of the top brass by those who had to carry out their orders. To lighten the heavy seriousness there is a brief sequence of lively dance led by entertainer Mo following the discovery of a supply of rum, the tipsy duo still totally in character. Christopher Birks as Mo and Nick Danan as Willie give beautifully matched performances, throughout both of them play every word as freshly thought.
However, even these fine actors cannot prevent Christopher Loscher's otherwise well-paced production from sagging slightly in the second act. Not the fault of the performers, for the lack of intervention from outside coupled with Vivienne Clavering's wonderfully atmospheric dim lighting do put great pressure on audience concentration in this very intimate staging. A little tightening of the script or some increased light levels during daytime scenes perhaps would help, though audiences differ and another night the problem might not present itself.
Until 27th March 2011
Reviewer: Howard Loxton