Holes
Louis Sachar
Cheam Drama Company
C
–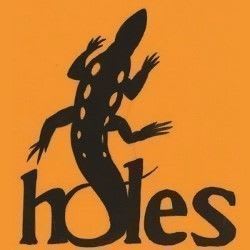 Cheam Drama Company is a young group from West Berkshire's Cheam School that has famous alumni including Prince Charles and the Duke of Edinburgh.
Its production of Louis Sachar's Holes was originally written to encourage older children to get excited about reading. In this stage adaption, the 15 talented youngsters tell the story of Stanley who is sent to a correctional centre in Texas for allegedly stealing a pair of trainers.
Camp Green Lake is no picnic; it's a harsh environment run by a strict tyrannical warden and the sadistic Mr Sir. Each of the inmates has to dig a hole 5 foot wide and 5 foot deep every day in the scorching heat of the desert but you have to be aware of the rattlesnakes, scorpions and deadly yellow spotted lizards.
Stanley believes that his troubles are based on his "no good dirty rotten pig stealing great great grandfather" who failed to keep a promise he made to a gypsy woman and is now plagued by a 100-year-old curse.
The kids all have nicknames: Stanley is called Cave Man who befriends Zero, who is picked on by the others and who eventually is taught by Stanley to read.
However, when Zero tries to protect Stanley in a conflict, he runs away and Stanley sets on a quest to find him.
There are rumours of a treasure chest being buried somewhere by Stanley's great great grandfather that was stolen by Kate Barlow, the kissing bandit in the area, and this is the motivation for the warden to insist on the digging.
When a gold lipstick case is found, the search is intensified with intriguing results.
There is splendid ensemble work from these well-drilled enthusiastic youngsters and strong individual performances, particularly from Stanley, together with live effective music accompaniment.
Reviewer: Robin Strapp