The Holly and the Ivy
Wynyard Browne
Middle Ground Theatre Company
Civic Theatre, Darlington, and touring
(2011)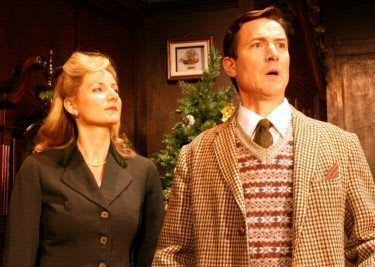 There's something about Christmas that evokes a sense of nostalgia in even the most hard-hearted of cynics. Perhaps it's all the 'peace and goodwill' sentimentality, which harangues us into believing that it is 'a time for forgiving and for forgetting', despite the fact we know that by mid-January people will, once again, have returned to their former selves and be behaving loathsomely. Nevertheless, we fall for it each and every year and, I would venture, plays such as The Holly and the Ivy are, to a certain extent, partly responsible for this.
From the beautifully detailed set, depicting a homely vicarage, complete with a Christmas tree in the corner, holly, ivy and mistletoe draped over picture and door frames, greetings cards standing to attention on the mantelpiece over a roaring log fire, to the view of the snow-dusted church from the living room window, everything about the production is reassuringly twee and quaint.
It's the Christmas Eve of 1947 in the Norfolk parish of Reverend Martin Gregory (a wonderfully dignified and understated performance from Stuart McGugan). His devoted daughter, Jenny (Julia Mallam), is busy with all those last-minute preparations before the imminent arrival of the rest of the family. However, this Christmas will be different to those of the past, as a number of issues have simmered for so long that they have now reached boiling point. The elderly vicar, who has always been steadfast in the belief that he has acted in the best interests of his flock - both parishioners and family alike - will soon be confronted by the reality that, in actual fact, his piousness and rigid adherence to his own interpretations of the teachings of 'the good book' have made him unapproachable and distant.
The facade of familial harmony is slowly stripped away with the arrival of each of the relatives: Mick (Chris Grahamson), the boyish soldier son with an eye for the ladies and a liking for liquor; two elderly aunts, Lydia (Joanna Wake), a widow, and Bridget (Sally Sanders), a spinster, who gossip, criticise and bicker to mask the loneliness of their lives; Margaret (Corrinne Wicks), the eldest daughter and a frosty fashion journalist with a secret sadness, and a stoically 'stiff-upper-lip' cousin, Richard (Alan Leith). Even good old, reliable Jenny is wrestling with her own emotional dilemma - should she forego personal happiness to stay and care for her father or marry David (Tom Butcher), the slightly dour Scottish neighbour and accompany him on a five-year posting to South America? As skeletons tumble from closets and stones are turned over, the Reverend Gregory and his family are forced to confront their regrets and secret anxieties.
Wynyard Browne's script may seem slightly dated, but it is also beautifully written. This, combined with Michael Lunney's skilfully subtle direction, makes the entire production a charming evening's entertainment. The eight-strong cast all work hard, each of them delivering performances to be proud of - although, I have to admit that Joanna Wake and Sally Sanders almost stole the show, in my opinion, with their wonderful partnership, pinpoint precision in comedic timing, and facial expressions.
All in all, The Holly and the Ivy is a classic example of uplifting theatre at its best - and the flurry of snowfall at the finale left me feeling fabulously festive. A real treat!
To 26 November 2011, then touring to Malvern and Southend-on-Sea.
Reviewer: Steve Burbridge