Sherlock Holmes and the Athenaeum Ghoul
Carl Miller
A Theatre Royal Bury St Edmunds production
Gala Theatre, Durham, and Touring
(2005)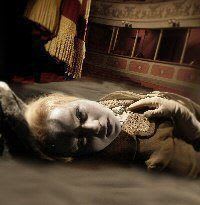 Sherlock Holmes is a perennial favourite for stage and film adaptation: the combination of the brilliant but cold Holmes and the rather bumbling but good-hearted and emotional Dr Watson has enormous appeal, and of course there is also the fascination as Holmes unravels the mystery, making everything which was formerly impenetrable so obvious and "elementary". There is also an element of melodrama in the Holmes stories which has its own appeal. And who can forget the magnificent performances of Basil Rathbone in the thirties and forties and Jeremy Brett in the eighties?
Carl Miller, formerly writer-in-residence at Bury St Edmunds, has chosen to write his own Holmes story rather than adapting one of the Conan Doyle canon, following what Doyle himself once said: "Marry him or murder him or do anything you like with him."
Sherlock Holmes and the Athenaeum Ghoul is very much a post-modern Holmes story - firmly tongue in cheek, true to the spirit of the originals but with some very contemporary touches (a suggestion of a Holmesian experiment with homosexuality being one of them) and presented in a knowingly melodramatic way. It's a good evening's entertainment - although perhaps the exposition in the first half goes on a tad too long - giving rise to a good few chuckles on the way.
The characters are played close to caricature but without actually crossing the line. As Holmes, Jonathan Keeble swings from neurasthenia to hyperactivity, both by way of cocaine, whilst Luke Shaw's Watson is suitably baffled and determined. The rest of the cast, under Colin Blumenau's direction, give good support. Designer Kit Surrey has produced a clever set which does duty as, among others, a stage set and a Turkish Bath, whilst accommodating itself to the exigencies of touring to a variety of theatres.
It's not to be taken seriously, of course, but its very lightness of touch raises it above the plethora of often dull murder mysteries which still manage to tour, even today.
"Sherlock Holmes and the Athenaeum Ghoul" plays at the Gala until Saturday 1st October, and then goes on to Newtown, Wakefield, Ipswich, Worcester, Musselburgh, UCL Bloomsbury, Newport, Chester, Spalding and Exeter, where it finishes on 26th November.
Reviewer: Peter Lathan