Home and Beauty
W Somerset Maugham
Pitlochry Festival Theatre
Yvonne Arnaud Theatre, Guildford
–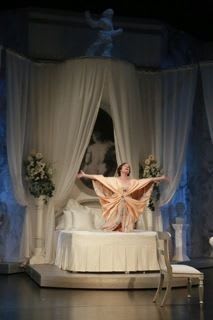 Written in 1925, when Maugham was recovering from tuberculosis in a sanatorium in Scotland, this play is intended to be pure entertainment, an antidote to the slushing sentimentality prevalent in most plays of the post-war period, and it could not be more of a contrast, or more farcical.
Perhaps, too, he was amusing himself by commenting on the hypocrisy and selfishness in human nature hidden behind the façade of respectability. An entertaining farce it may be, but there is also satire and social comment behind the frivolity.
The information that her husband has been killed in the war has done little to upset Isla Carter's Victoria. For appearances sake, she waits a year before marrying her husband's best friend, but says that really she, "went to pieces'', her bust went to nothing and she couldn't wear a low-cut dress for months. In spite of this, she believes she has "done her bit" for the war effort having been on numerous committees and "sold at twenty three bazaars".
Her new husband (Simon Pontin as Frederick), an officer and a gentleman, has endured the war too, although it seems to have affected him not at all, and the same applies to the first husband (Reece Richardson as William) who turns up very much alive having been a prisoner in a concentration camp.
All the sympathy goes to the impossibly selfish Victoria, whom we find in the bedroom of her Westminster house (or perhaps boudoir would be more appropriate) indulging in a manicure, and what a magnificent set has been created by Adrian Rees, so exaggerated and opulent it seems rather more like a high-class brothel. The following two scenes have equally extremely impressive sets, from the huge and recently decorated drawing room to the dirty basic kitchen where the two husbands eventually find themselves.
The play was written as a farce and the three main protagonists deliberately overact, more like caricatures than characters, which in my opinion detracts from the humour. Much more to my taste is the performance by Mark Elstob playing it straight as the solicitor instructing them in the steps necessary to divorce both husbands. He has some very pertinent facial expressions too, which often speak louder than words.
In fact, I found the third scene the most entertaining of the three, and there is a well performed and facetiously humorous cameo role of the respectable co-respondent, (Miss Montmorency played by Jacqueline Dutoit) who can play any card game required—all night. Dutoit also takes the role of a cook who will only accept employment on her own absurd terms. The war has certainly changed perceptions of status in life.
The two husbands compete first of all for Victoria's favours, but before long they are competing to be rid of her, and does the lady care? She's already after her next husband—well he does have a Rolls Royce!
Reviewer: Sheila Connor