Home, I'm Darling
Laura Wade
National Theatre and Theatr Clwyd
The Lowry, Salford
–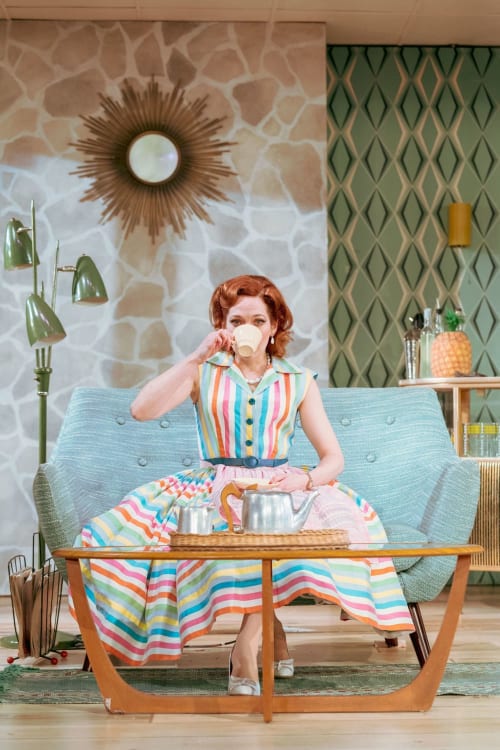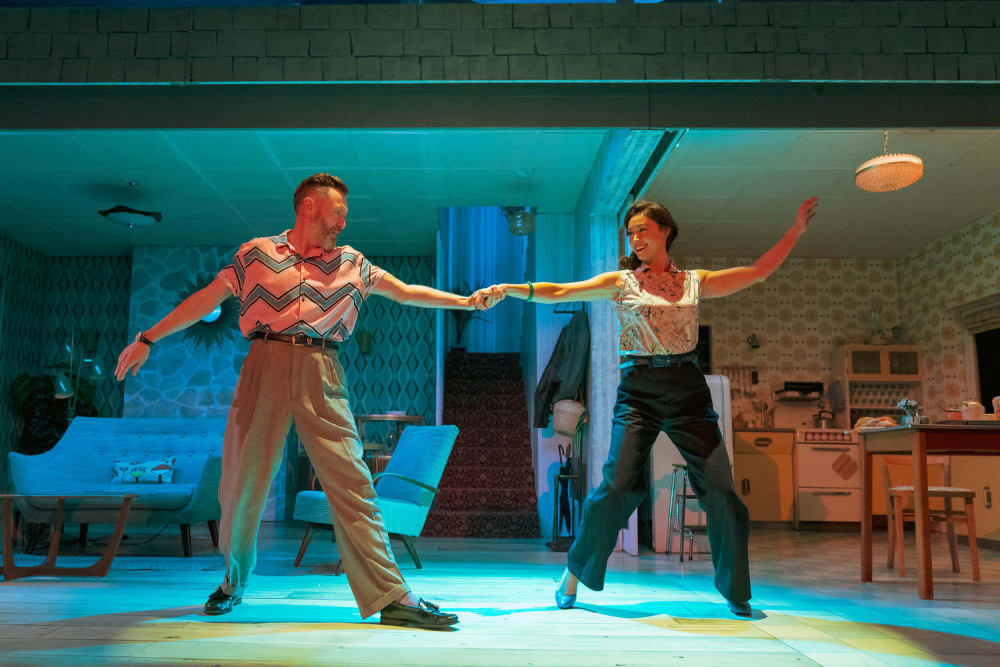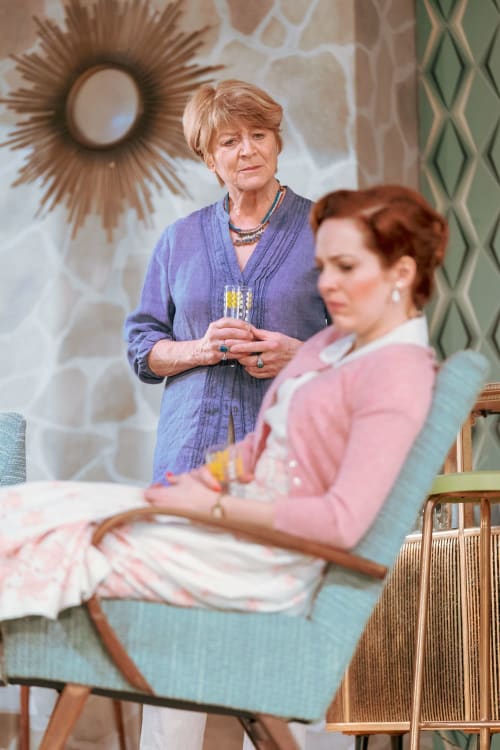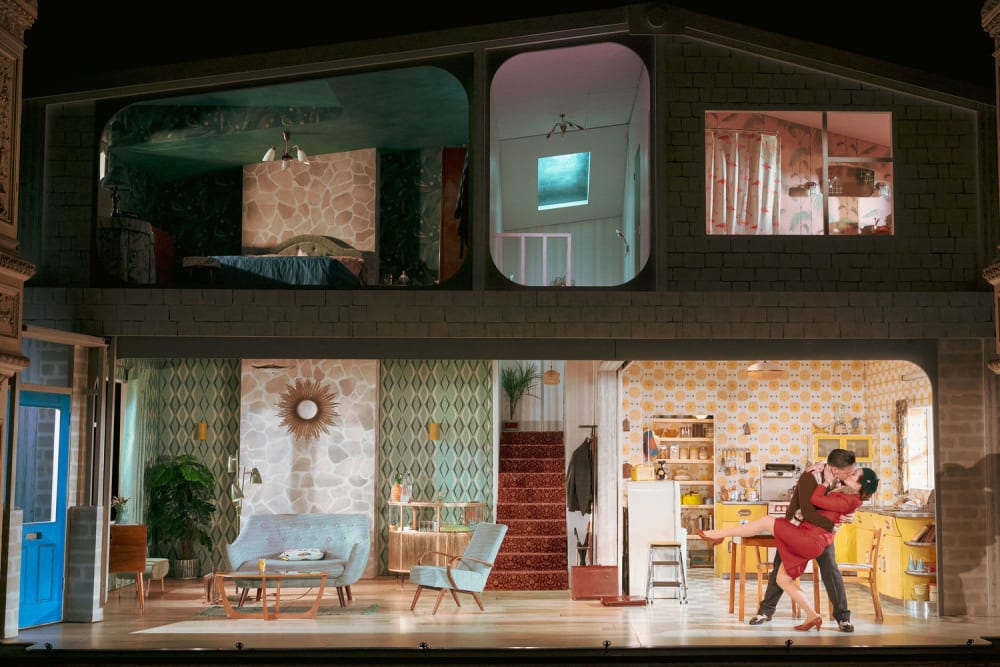 The cleverly deceptive opening of this recent Olivier Award-winner for Best Comedy is helped in no small part by Anna Fleischle's spectacular (and cleverly adaptable, we find out much later, especially in the otherwise superfluous flashback scene at the start of act II) giant doll's house of a set—for a play that touches on a few elements of Ibsen's play of that name.
The opening scene looks like something from one of those American adverts from the 1950s showing the perfect home, with the wife keeping the home nice for the husband to come home from work to, as spoofed brilliantly in "Somewhere That's Green" in Little Shop of Horrors. In the perfect 1950s home with all the latest designs of decor and gadgets, he puts his hat on, kisses his wife and goes off to work, leaving her to go into the kitchen and... get her laptop out.
That isn't really a spoiler as it happens in the first few minutes and the whole play follows on from the revelation that this is all staged, a lifestyle choice. Where Ibsen's Nora in A Doll's House went along with the accepted role of wife and mother until her moment of revelation when she walked out on her family to find a life of her own, Judy in this play was in the now-common role of a successful career woman, earning more than her estate agent husband, until she decided to give it all up to fit their lifestyle to the period decor they had already created for their home—or at least her idealised interpretation of the era.
This is all totally beyond the comprehension of her activist mother who claims she "put the 'staunch' into feminism", looks at her daughter in her billowing 1950s dress and asks, "is this what a feminist now looks like?" before coming out with a line you might have expected to hear from a 1950s husband: "what do you do all day?". But when husband Johnny doesn't get the promotion he was expecting, he discovers that she has been juggling the finances without telling him just how bad things have got—another parallel with Ibsen's Nora—and the fantasy starts to unravel.
I spoke to a few people at this packed weekday matinée who questioned the Best Comedy award as, while there are certainly some very funny parts to it, this is a serious play with some serious points to make, not all of which are made with humour, which is a valid point. Whether a modern couple can survive on just one salary is one issue raised by the play, as is the debate over whether equality means the freedom to choose a lifestyle or just the imposition of a different role on women. Apart from money problems, Judy's willing domestic confinement has cut her off from the outside world, which, as it is no longer visible to her, has become a hostile place that doesn't understand her and where she doesn't know or trust what her husband may be getting up to.
Judy's mother Fran has a great speech—if a little contrived—in the second half where she demolishes the whole fantasy of the 1950s being a perfect decade, conjuring up an alternate image of sexism, racism, continuing rationing, bomb craters and traumatised men who had fought in the war. The issue of acceptable behaviour from male bosses to female employees enters the story via Judy's friend Fran's husband Marcus, who has been suspended for alleged inappropriate physical contact, which Fran thinks is preposterous.
All of those great comic performance techniques Katherine Parkinson commonly shows on TV are in evidence on stage in her performance of Judy, a role for which she is perfectly suited. Jo Stone-Fewings is her mild-mannered husband Johnny, Sara Gregory is his attractive, young new boss Alex and Siubhan Harrison and Hywel Morgan are their friends Fran and Marcus, whose jive routines as part of the choreographed scene changes became a bit too long. Susan Brown completes the cast as Judy's incredulous mother Sylvia.
Wade's play is a clever contrivance that works well to get across some debates on the role of women in a form that has plenty of comic potential, realised by a good cast under Tamara Harvey's direction. It is rather long for a comedy at two and a half hours, but does, after all the chaos, end on a note of hope for the future of the central couple, which perhaps does qualify it as a comedy after all.
Reviewer: David Chadderton